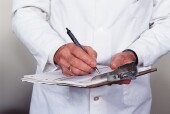 TUESDAY, Dec. 17, 2013 (HealthDay News) — GlaxoSmithKline, the British pharmaceutical giant, says it will stop paying doctors to market its drugs at conferences and will no longer reward sales agents whose physician customers write the most prescriptions.
These practices are commonplace within the pharmaceutical industry, and critics have worried that they increase the likelihood that drug prescriptions will be written inappropriately.
Monday's announcement is apparently a first for a major drug company. But other companies may be considering similar moves, The New York Times reported.
One expert called the decision a small step in the right direction.
"It's a modest acknowledgment of the fact that learning from a doctor who is paid by a drug company to give a talk about its products isn't the best way for doctors to learn about those products," Dr. Jerry Avorn, a professor at Harvard Medical School who has studied the industry's marketing practices, told the Times.
However, Avorn pointed out that the company still planned to offer what Glaxo termed in a statement "unsolicited, independent educational grants" to inform doctors about its products. This practice in the past has raised questions about whether the grant recipients — often for-profit companies — provide independent information, Avorn said.
Under Glaxo's new plan, which will unfold worldwide by 2016, the company will stop paying doctors to attend medical conferences on its behalf. While this practice is frowned upon in the United States, it is commonplace in other countries, according to the news report.
In the United States, the new Affordable Care Act will require all payments by pharmaceutical companies to doctors be made public starting in 2014.
Glaxo said its decision was not linked to its current problems in China, where the company is accused of bribing doctors and public officials in an attempt to fuel sales. Chinese authorities claim that Glaxo financed doctors' trips to nonexistent conferences and talks.
Glaxo chief executive Andrew Witty told the Times that the change in business practices was in the works for years. It is an attempt "to try and make sure we stay in step with how the world is changing," he said. "We keep asking ourselves, are there different ways, more effective ways of operating than perhaps the ways we as an industry have been operating over the last 30, 40 years?"
Starting in 2015, Glaxo said, its worldwide sales staff will be paid for its service and expertise, not the number of Glaxo prescriptions that doctors write. The company stopped that practice in the United States in 2011, according to the Times.
Glaxo makes many well-known medications, including the antibiotic Augmentin; asthma medications Advair and Flovent; the epilepsy drug Lamictal; Lovaza for lowering cholesterol, and Avodart for prostate enlargement. It also makes Cervarix and Pediarix vaccines, over-the-counter products including Tums and toothpastes, and smoking-cessation products NicoDerm and Nicorette.
More information
The U.S. National Institutes of Health can help you choose the right doctor.
Copyright © 2022 HealthDay. All rights reserved.