Fear of Antidepressants Keep Many From Disclosing Depression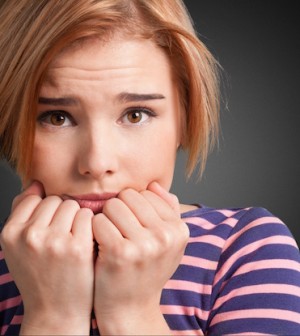 TUESDAY, Sept. 13For a nation that seems ready to pop a pill for any ill, a new study suggests that the opposite seems true for some people with symptoms of depression, whose concerns about the side effects of antidepressants were the top reason they wouldn't disclose warning signs to their doctors.
A phone survey of more than 1,000 adults who had previously participated in the California Behavioral Risk Factor Survey System, which probed depression-related beliefs, showed that 43 percent reported one or more reasons for not talking to their primary care physician about their depression. Nearly a quarter of them worried that their doctor would recommend antidepressants — the most frequently cited reason for withholding the information.
Other stated barriers to sharing depressive symptoms included the belief that it's not a primary care physician's job to deal with emotional issues (16 percent) and concerns about medical record confidentiality (15 percent). At least 10 percent said they were fearful of being referred to a counselor or psychiatrist and of being labeled a psychiatric patient.
"When patients are diagnosed with depression, they can go into a state of shock emotionally and view it as some kind of indictment of personality or character," said Dr. Norman Sussman, a professor of psychiatry at New York University Langone Medical Center, who was not involved in the study. "People would almost prefer to get a serious medical diagnosis than be told they have a psychiatric disorder."
The study is published in the September/October 2011 issue of the Annals of Family Medicine, and was supported by a grant from the National Institute of Mental Health.
About 10 percent of Americans suffer from depression at any given time, according to the U.S. Centers for Disease Control and Prevention, which released a report early this month indicating about half the population will experience some form of mental health problem at some point in their lives.
Study authors noted the irony that those who were most reluctant to talk to a primary care physician about their depression tended to be those who had the most potential to benefit from such a conversation — patients with moderate to severe depressive symptoms.
Co-author Dr. Richard L. Kravitz, a professor of internal medicine at University of California, Davis, said targeted education programs — such as brochures or posters in primary care offices reminding patients that doctors are interested in hearing about symptoms of depression — are simple ways to nudge conversations that could be life-altering or even lifesaving.
"On the one hand, the fact that 16 percent of patients felt it wasn't their primary doctor's job to deal with depression meant that [84 percent] did feel it was within their doctor's purview," said Kravitz, also co-vice chair of research in the department of internal medicine. "Always, the glass is half full or half empty. But overall, the news is mixed and there are . . . some simple things physicians can do in their own practices."
Also a concern is that primary care physicians may fail to recognize depressive symptoms in their patients, said Dr. Alan Manevitz, a clinical psychiatrist at Lenox Hill Hospital in New York. Manevitz, noting that many primary doctors prescribe anti-depressants after a "haphazard" diagnostic process, may not follow up correctly because of time constraints or an overconcentration on physical complaints.
"A major reason people don't like to reveal things about themselves is they're afraid their doctor then may not take physical symptoms seriously — they're worried their symptoms may be minimized because they're depressed," he said. "That's a myth. I think it's something doctors are much more sophisticated about."
Sussman said the implications of not reporting and treating depression can be serious, with damaging effects on careers, relationships and overall health. About 8.4 million Americans had suicidal thoughts in 2008 and 2.2 million made plans to kill themselves, according to the recent CDC report.
"The patients are correct in that there's a certain amount of misgivings in being treated with antidepressants," which are linked to sexual dysfunction, weight gain and even some cardiac effects, Sussman said. "No one wants to take these medications if they don't have to, but at least two-thirds get some benefit. So there are consequences of not telling your doctor."
In some cases, physicians can work with patients' concerns about medication side effects by starting with the lowest doses of antidepressants known to be effective. Patients who choose a treatment plan that does not include antidepressants can also benefit from a referral to a psychologist, who can work with them in talk therapy and closely monitor their depression.
More information
For more about depression, visit the U.S. Centers for Disease Control and Depression.
Source: HealthDay
​