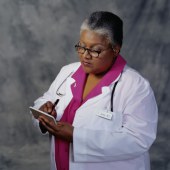 FRIDAY, March 7, 2014 (HealthDay News) — Antibiotics prescribed in doctors' offices are linked with many cases of serious bacterial infections that can cause severe diarrhea in children, according to a new study.
Researchers found that 71 percent of cases of Clostridium difficile infection among American children aged 1 to 17 occurred shortly after they took antibiotics that were prescribed in doctors' offices to treat other conditions.
Most of the children received antibiotics for problems such as ear, sinus or upper respiratory infections. Previous research has shown that at least 50 percent of antibiotics prescribed to children in doctors' offices are for respiratory infections, most of which do not require antibiotics, the U.S. Centers for Disease Control and Prevention researchers said in an agency news release.
About 17,000 children aged 1 to 17 get C. difficile infections every year, according to the CDC. This study found no difference in the incidence of C. difficile infections among boys and girls. It did show, however, that white children and those aged 12 months to 23 months are at greatest risk for such infections.
While the study showed an association between antibiotic use and C. difficile infections, it did not prove a cause-and-effect link.
The study was published online March 3 in the journal Pediatrics.
Taking antibiotics is the top risk factor for developing C. difficile infections for both children and adults, the researchers said. Antibiotics can alter or kill beneficial bacteria that help protect against infections, which means patients can get sick from C. difficile they pick up from contaminated surfaces or someone's hands.
"Improved antibiotic prescribing is critical to protect the health of our nation's children," CDC Director Dr. Tom Frieden said in the news release. "When antibiotics are prescribed incorrectly, our children are needlessly put at risk for health problems including C. difficile infection and dangerous antibiotic-resistant infections."
Parents should not demand that doctors prescribe antibiotics for their children, and doctors should follow antibiotic prescribing guidelines, according to the CDC.
The CDC is seeking funding for a program it believes could cut outpatient prescribing of antibiotics by up to 20 percent and health care-associated C. difficile infections by 50 percent in five years. That reduction in infections could save 20,000 lives and more than $2 billion in health care costs, according to the news release.
More information
The U.S. Centers for Disease Control and Prevention has more about C. difficile.