Postoperative Program Prevents Respiratory Complications: Study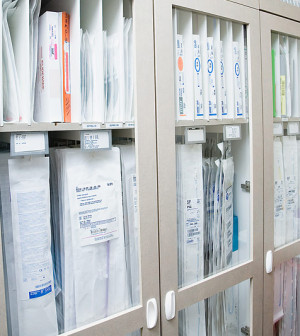 THURSDAY, Oct. 4A simple and inexpensive program can reduce the risk of life-threatening and costly respiratory complications that are common after surgery, according to a new study.
Pneumonia and ventilator dependency are among the most common complications that occur after surgery. A postoperative pulmonary program called I COUGH reduces those risks, researchers found.
I COUGH stands for: incentive spirometry; coughing/deep breathing; oral care; understanding (patient and staff education); getting out of bed at least three times daily; head of bed elevation.
The program was developed by a team at the Boston University School of Medicine and assessed for one year at the Boston University Medical Center. I COUGH reduced the risk of pneumonia, unplanned intubation and blood clots after surgery.
The study was to be presented Oct. 4 at the American College of Surgeons' annual Clinical Congress in Chicago.
The I COUGH program is automatically ordered for all patients who have had surgery at Boston University Medical Center. The program's goal is to reduce the number of postoperative respiratory complications in the hospital by at least 50 percent.
"The costs of these serious complications can range from $18,000 to $52,000 per event, and we estimate at least $1 million in savings at our institution from these interventions," study coauthor and I COUGH co-developer Dr. David McAneny, associate professor of surgery at Boston University School of Medicine, said an ACS news release.
More information
For more on ventilators, visit the National Heart, Lung, and Blood Institute.
Source: HealthDay
​