Poll Finds Americans Blame Insurers, Drug Companies for Rising Health Costs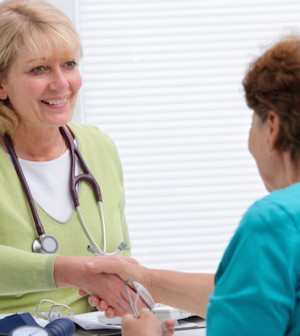 WEDNESDAY, March 24Nearly half of Americans are "extremely" or "very worried" about rising costs for health care and health insurance, and a majority place the blame on drug and insurance company profits, a new Harris Interactive/HealthDay poll finds.
The poll was conducted in the days leading up to Sunday's historic House of Representatives' vote to reform health care and attempt to rein in escalating costs. The vote was followed by President Barack Obama's signature Tuesday, making the bill law.
Still, some health economists and other experts debate whether the blame revealed in the poll is justified. Some health economists say insurance and pharmaceutical company profits amount to only about 2 percent of total health care spending.
Instead, fees charged by doctors and hospitals, as well as expanding use of increasingly sophisticated and expensive health-care technologies, are the primary cause of escalating health-care costs, these experts contend.
"For people to blame drug and insurance company profits for their predicament is just ignorant. People simply do not know what drives costs," said Uwe E. Reinhardt, the James Madison Professor of Political Economy at Princeton University. "What drives prices is the amount of services people are getting, plus the prices doctors and hospitals charge for those services."
Humphrey Taylor, chairman of The Harris Poll, a service of Harris Interactive, added: "These findings show how little most people understand the economics of health care. Increased profits of insurers and drug companies (if they have increased at all) cannot possibly account for the increases in premiums. Many health-care economists attribute the increased cost of care to increased demand and utilization, increased prices and the increased use of expensive tests and treatments. Most people, as shown here, do not think of these as the main drivers of increased health-care spending."
About 44 percent of adults polled said they are "extremely" or "very worried" by the prospect of having to pay more for their health care or health insurance, according to the poll of 2,389 U.S. adults. The was was conducted online between March 11 and 15.
"That [44 percent] is a huge number of people and underscores the biggest concern about the health-care system, which is, 'How do we pay for it?' " Taylor said.
Those ages 40 to 64 are particularly concerned. About 54 percent of people aged 40 to 49 and 55 percent of those aged 50 to 64 said they are "extremely" or "very worried" about higher health care and health insurance costs.
That stands to reason, Reinhardt said. Middle-aged workers have suffered a large number of layoffs during the recession and can find it more difficult to get rehired. As people age, they are also more likely to have costly chronic conditions that can make it difficult to buy health insurance policies on the individual market.
Even among those eligible for Medicare, fears persist. Forty-nine percent of those ages 65 and up said they worry about paying for health care, which could reflect higher premiums and co-pays for Medicare Part B and concerns about long-term care in a nursing facility, which is not covered by Medicare, Taylor said.
Perhaps surprisingly, Taylor noted, lower income people are no more worried about health-care costs than people with higher incomes. The highest percentage of those who said they are "very" or "extremely" worried (52 percent) are middle-income Americans with a household income of $50,000 to $74,900, the poll found.
The top reasons cited by those polled for rising health-care costs include:
drug and health insurance company profits (58 percent);
hospital charges (51 percent);
more tests, treatments and procedures ordered by doctors due to malpractice worries (44 percent);
increased drug company spending on marketing and advertising (42 percent);
increased demand for health care due to an aging population (41) percent;
increased costs of new medical technology, tests and treatments (40 percent).
Much lower on the list was increased utilization of medical services (18 percent).
As for higher insurance premiums, 71 percent blame the insurers, 63 percent blame drug companies, 42 blame hospitals, while 29 percent blame doctors and medical service companies. More than a few blame politicians — 35 percent say it's Congress' fault, 21 percent blame President Obama and 19 percent blame former President Bush.
While some health economists take issue with Americans' conclusions about who is to blame, Mark Rukavina, executive director of the Boston-based The Access Project, said insurers shouldn't be let off the hook so easily.
"There are many factors driving costs, clearly, but the insurers do play a role here," Rukavina said. "They are among the more profitable companies out there."
Insurers have not been good stewards of premium dollars, wasting too much on administration, being too quick to pass on cost increases in the form of higher deductibles and co-pays instead of managing costs, and offering inferior plans that leave people vulnerable when they do get sick, Rukavina said.
What is indisputable is that health-care costs are rising much faster than inflation or wages, health economists say, and are gobbling up an ever-growing proportion of the nation's gross domestic product (GDP). Total spending on health care hit about $2.3 trillion in 2008, which translates to $7,681 per person and 16.2 percent of GDP, according to the U.S. Department of Health and Human Services.
Every day, Rukavina, whose organization includes a medical debt resolution service, hears stories of people who have insurance and yet can't pay their medical bills. Forty-one percent of working-age adults, or 72 million people, reported a problem paying their medical bills or had accrued medical debt in 2007, up from 34 percent, or 58 million people, in 2005, according to the Commonwealth Fund Biennial Health Insurance Survey.
"People are struggling to pay premiums, struggling to pay out-of-pocket costs, and they are struggling to pay medical debt," Rukavina said. "They have every right to be concerned if the current cost trends continue."
More information
If you are having trouble paying a medical bill, The Access Project's Medical Debt Resolution Program may be able to help.
Source: HealthDay
​