Fewer Deaths in Larger, Busier Hospitals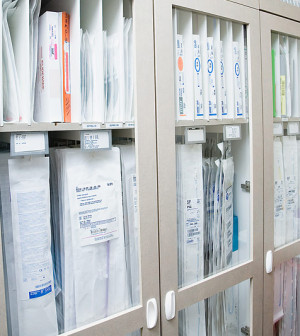 WEDNESDAY, March 24Patients suffering from a heart attack, heart failure or pneumonia fare better in hospitals that see more of these patients than in those that see relatively few, a new study finds.
However, once the number of these patients reaches a certain threshold the outcomes are the same regardless of the size of the hospital, the researchers say.
"When you look straight on, you do see that the higher-volume hospitals have slightly better outcomes," said lead researcher Dr. Joseph S. Ross, an assistant professor of geriatrics and palliative medicine at Mount Sinai School of Medicine in New York City.
However, there is a lot of variability, he added. "You see some small hospitals with really good outcomes, but you also see small hospitals with bad outcomes," he said.
In addition, as hospital volume increases in general, "the importance of volume seems to decline," Ross said. "And you can point out a point at which increase in hospital volume wouldn't be expected to have any mortality benefit."
The researchers undertook the study because although the relationship between volume and outcomes in surgery is well-known, little is known about the connection between volume and outcomes for medical conditions, he said.
The report is published in the March 25 issue of the New England Journal of Medicine.
Using Medicare claims for 2004 to 2006, Ross's group collected data on almost 735,000 people hospitalized for heart attack, more than 1,324,000 sent to hospital for heart failure and more than 1,418,000 hospitalized with pneumonia.
The researchers found that, for each condition, increased hospital volume was associated with fewer deaths over 30 days.
However, once the number of patients treated for each condition reached a threshold level, outcomes remained the same.
For example, once a hospital treated 610 heart attack patients per year the outcome for each additional 100 heart attack patients was the same. For heart failure it was 500 patients per year and for pneumonia it was 210 patients annually, Ross's team found.
One factor that may account for the connection between volume and outcome is that larger hospitals can afford to have staff dedicated to specific medical conditions. In addition, they have the resources to provide the best equipment and latest treatments, Ross speculated.
There is more in improving quality care than simply getting more patients, Ross said. "We need to identify what works and make sure all hospitals have it," he said.
Dr. William W. O'Neill, executive dean for clinical affairs at the University of Miami Miller School of Medicine, said that, "bigger volume hospitals generally tend to have better outcomes than the lower volume hospitals, but that's not an absolute rule. There are some low-volume hospitals that are doing very well."
O'Neill said that outcomes in larger hospitals are better because these hospitals have more ancillary services, and more physician's assistants and nurses that help augment medical care.
"If you or a loved one happens to be hospitalized in a hospital that doesn't take of a lot of patients, then you want to be very careful and talk to the doctor about what the outcomes would be, and possibly consider getting transferred to a larger hospital," he said.
Patients need to ask hospitals about their outcomes, O'Neill said. "High-quality institutions are very aware of their outcomes and should be open and actually brag about them," he said.
More information
To compare hospital's quality, visit the U.S. Department of Health and Human Services.
Source: HealthDay
​