Campaign Calls for Limits on Doctors' Hours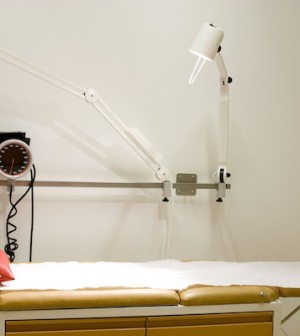 THURSDAY, Feb. 4In November 2000, Helen Haskell took her 15-year-old son to a teaching university for a routine, elective procedure.
Four days later, he was dead. The cause: failure to rescue, meaning, Haskell said during a Thursday news conference, "failure to recognize and act upon declines in patients."
He was cared for by a resident physician who had been awake for more than 30 hours and who was less than a week into her pediatric surgery rotation.
"I know that fatigue had to have played a role in my son's death," said Haskell, who later founded Mothers Against Medical Error. "In that time of crisis the last thing we needed was an exhausted resident as the only lifeline for our dying son."
Fatigue can also be devastating to doctors, resulting in car crashes, potentially deadly needle or scalpel pricks, depression and harmful reproductive effects on female residents.
But a new campaign hopes to prevent these tragedies in the future.
Activists are urging the Accreditation Council for Graduate Medical Education (ACGME), which controls medical residency training programs, to limit the amount of time residents go without sleep to 16 hours and to increase supervision of the residents. This would bring prevailing rules in line with recommendations outlined in a 2008 Institute of Medicine (IOM) report on resident duty hours.
"More than 100,000 residents are routinely scheduled to work 30 hours or more at a time. One-hundred-hour workweeks are not uncommon," said Dr. John Ingle, a third-year resident at the University of New Mexico and regional vice president of the Committee of Interns and Residents/Service Employees International Union Healthcare.
"There are dangerously lax regulations of medical residents' work hours," said Dr. Sidney Wolfe, director of the Health Research Group at Public Citizen, a watchdog organization. "Today we are sending a letter signed by more than 40 organizations to the ACGME urging them to adopt rules to reduce sleep deprivation among tens of thousands of residents in whose hands the safety of millions of American patients are placed."
"It's critically important to make sure residents have time off of sufficient duration and quality to allow for meaningful rest," added Art Levin, director of the Center for Medical Consumers and a peer reviewer for the IOM report.
A National Transportation Safety Board report this week names fatigue as one factor contributing to the crash of a commuter jet in Buffalo last year which killed 50, he pointed out.
Declarations at the news conference seemed to place the blame squarely with the ACGME and suggested that impetus for reform might need to come from higher up, namely Congress.
"It's still not clear if ACGME can improve rules sufficiently without increased accountability, which would come from federal legislation," Wolfe said.
Ingle told of one chief resident who put his car into park every time he stopped at a red light on his way home from grueling hospital shifts.
"He was fearful he would let his foot off the pedal and have an accident," Ingle said.
"My body is not made to work 30 hours or more," said Dr. Dan Henderson, health justice fellow with the American Medical Student Association. "If I'm truly going to do no harm as I pledged, I need a system to protect patients against errors caused by my fatigue. If ACGME isn't willing to do the right thing hopefully consumers and lawmakers will be ready to step in."
More information
Visit wakeupdoctor.org for more information on this issue and to sign a petition.
Source: HealthDay
​