Two U.S. Children Contract New Strain of Swine Flu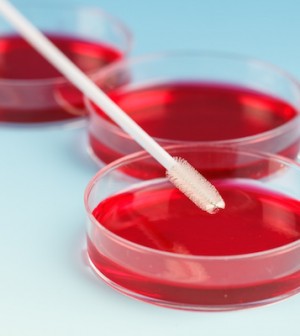 FRIDAY, Sept. 2Experts at the U.S. Centers for Disease Control and Prevention are investigating two recent cases of swine flu in which the new strain of flu passed directly from pigs to children.
This strain of flu does not appear capable of human-to-human transmission, but further study is needed, because if it were to spread among humans, the implications would be severe, the agency said. The CDC says the new strain contains genetic material from the H1N1 virus that swept the world last year, plus DNA from other pig flu viruses.
"We hope to learn more about the extent of transmission as soon as possible," said CDC spokesman Tom Skinner. "We see a couple of cases of swine origin influenza every year, and usually it's in people who have direct contact with swine. Right now there doesn't appear to be any sustained human-to-human transmission."
Both cases, revealed Sept. 2 in an early release of the CDC's Morbidity and Mortality Weekly Report, involved children under 5 years old, one in Indiana and the other in Pennsylvania.
The Indiana boy who came down with the flu had no contact with pigs, but a caregiver had been in direct contact with swine in the weeks before the boy became sick. In the other case, a girl developed flu after having contact with pigs at a fair, according to the report.
Both children recovered, and no other family members got sick, the CDC said.
According to Skinner, these are the first cases of new swine flu seen this year.
"As far as the general population is concerned, here we have a situation where we have a couple of cases in people who have had contact with swine," Skinner said. "The general public, I don't think, should be concerned about these cases."
However, people who have contact with swine and develop an upper-respiratory illness accompanied by fever need to make sure their doctor knows that they had contact with swine, Skinner said.
"This report shows our system of being able to detect new and emerging influenza viruses is working," he said.
Skinner added that the flu viruses known to go from person-to-person are those seen during the flu season, which usually starts in December.
This year's seasonal flu vaccine contains the same strains as last year's, which are the ones seen now in the Southern Hemisphere, he said. Skinner urged people to get a flu shot before the flu season begins in North America this winter.
Flu expert Dr. Marc Siegel, an associate professor of medicine at New York University School of Medicine in New York City, said "there is no concern for the public at this point."
"You have to remember that swine flu strains and bird flu strains are coming out all the time, and two cases doesn't mean anything," Siegel said.
Pigs are mixing vessels for flu, Siegel explained. "We see this every year. The key here is that we don't see any tendency toward sustained human spread," he said.
More information
The U.S. Centers for Disease Control and Prevention has more about flu.
Source: HealthDay
​