Incidence of High Cholesterol Drops in U.S.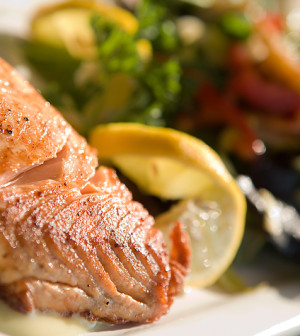 TUESDAY, Nov. 17The good news is that a new report shows the percentage of American adults with high LDL cholesterol, the "bad" kind that clogs arteries, decreased by about one-third between 1999 and 2006.
The bad news is that too many of those who have dangerously high levels of LDL cholesterol don't know it, said study author Dr. Elena V. Kuklina, an epidemiologist and senior service fellow at the U.S. Centers for Disease Control and Prevention. Her research is published in the Nov. 18 issue of the Journal of the American Medical Association.
"In the group with high LDL cholesterol, 60 percent of these people do not know they have this condition," Kuklina said. "They are in two major groups — those who have never been screened, and those who have been screened but not diagnosed."
It is not as easy to test for LDL, rather than total blood cholesterol levels, including "good" HDL, Kuklina said. An LDL test requires fasting for the previous eight hours, "and if you are not prepared for this test, it is not going to be correct," she said. But testing someone and then not informing that person of a dangerously high LDL cholesterol level is not easy to explain, she said.
While many studies have found that overall cholesterol levels in American adults are decreasing, there has not been much information on LDL levels, Kuklina said. The study she did with colleagues at the CDC used data from consecutive results of the National Health and Nutrition Examination Survey. It found that overall prevalence of high LDL cholesterol levels decreased from 31.5 percent in 1999-2000 to 21.2 percent in 2005-2006.
But there is no single definition of high LDL, the report noted. For persons at high risk of major problems because they have diagnosed heart disease, stroke or other cardiovascular conditions, the desired LDL level is 100 milligrams per deciliter of blood. For those at intermediate risk because they have two or more risk factors, such as diabetes, high blood pressure, smoking or a family history of heart trouble, the desired level is 130. For those at low risk because they have no more than one risk factor, the desired level can be as high as 160.
A troubling finding was that the greatest incidence of dangerously high LDL cholesterol is in the high-risk group. The prevalence of high LDL did decrease in that group, but only from 69.4 percent in the first survey to 58.9 percent in the last survey, the study authors reported.
As for the cause of the overall reduction, "we don't know why, we can only speculate," Kuklina said. It could be changes in lifestyle, such as better diet, or it could be more widespread use of cholesterol-lowering medications such as statins, she said.
"But we still have many people we could put on statins," Kuklina noted.
It's important to remember that LDL cholesterol is just "one of many risk factors for cardiovascular disease," said Dr. Thomas A. Gaziano, an assistant professor of medicine at Harvard Medical School and an associate physician at Brigham and Women's Hospital, and co-author of an accompanying editorial.
Doctors must consider all the risk factors when dealing with cardiovascular disease, Gaziano said. "We recommend simplifying how the risk is calculated," he said. "Once the risk is determined, therapy should be based on overall risk, not just on cholesterol."
There are different recommendations about the age at which cholesterol screening should begin, Kuklina noted. The CDC, the National Heart, Lung and Blood Institute and the American Heart Association recommend that screening tests should start at age 20, she said.
"I don't think it unreasonable to get screened once in the 20s, and then with increasing frequency in the 30s," Gaziano said.
More information
Learn about the different cholesterols and what they do from the American Heart Association.
Source: HealthDay
​