Metabolic Syndrome Doubles Heart Risk, Analysis Shows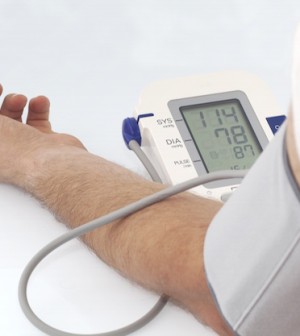 MONDAY, Sept. 20A group of health conditions collectively known as metabolic syndrome may pose an even greater danger to the heart than previously recognized, new study findings suggest.
The combination of metabolic syndrome risk factors — including obesity, high blood pressure, high cholesterol and insulin resistance — increases the risk of developing heart disease and diabetes. And about 25 percent of American adults have metabolic syndrome, according to the U.S. National Heart, Lung, and Blood Institute.
In the new analysis, researchers examined more than 70 recent studies that included a total of nearly one million patients. The investigators found that people with metabolic syndrome are up to 2.5 times more likely to die of heart-related causes and to have heart disease, a heart attack or stroke, compared to people without the syndrome.
In addition, metabolic syndrome patients had a 50 percent greater risk of death during the study follow-up period. Among those without diabetes, the cardiovascular risk remained high, the study authors noted.
"Our study suggests that the association between metabolic syndrome and cardiovascular outcomes is even stronger than previously suspected," study author Dr. Mark Eisenberg, a professor of medicine in the divisions of cardiology and clinical epidemiology at Jewish General Hospital/McGill University in Montreal, Canada, said in an American College of Cardiology news release.
"It firmly reinforces the urgent need to aggressively combat the metabolic syndrome in order to reduce and perhaps even prevent heart disease and improve survival," he added.
And while individuals need to do their part to maintain a healthy lifestyle, such as eating right and exercising, societal changes could also make a difference, Eisenberg suggested.
"Ultimately, population-level interventions such as New York City's ban on trans-fats are needed to decrease the number of people with the metabolic syndrome and their corresponding cardiovascular risk," Eisenberg said in the news release.
More information
The U.S. National Heart, Lung, and Blood Institute has more about metabolic syndrome.
Source: HealthDay
​