Americans Spending More of Their Lives Struggling With Diabetes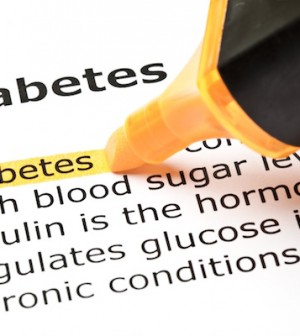 FRIDAY, Sept. 23 Americans may be living longer than ever before, but they're not necessarily living better. And that's especially true for people who are obese, a new study finds.
An obese man can expect to live almost six more years of his life with diabetes, compared to the same estimate in the 1980s. For women, the extra time with diabetes is now 2.5 years.
"At the same time we've been seeing decreases in mortality, we're not seeing a decrease in diabetes-free life," said study author Solveig Cunningham, an assistant professor in global health at the Rollins School of Public Health at Emory University, in Atlanta.
"At the population level, we see increases in diabetes incidence. But, if you parse out the data by weight, almost the entirety of the increase was in the obese population. In normal-weight people, diabetes incidence was going down," she noted.
Results of the study are published in the October issue of Diabetes Care.
Almost 26 million Americans have diabetes, according to the American Diabetes Association. The vast majority of those have type 2 diabetes. Type 2 diabetes develops when the body no longer uses insulin effectively (insulin resistance) or doesn't produce enough insulin to meet the body's needs. Being overweight or obese is a common risk factor for developing type 2 diabetes, although not everyone who develops this form of diabetes is overweight.
For the current study, Cunningham and her colleagues reviewed data from several sources, such as the National Vital Statistics System and the National Health Interview Survey.
From these sources, they obtained population data on age, sex, body mass index, diabetes status and deaths.
The average life expectancy at birth in America is now 77.7 years, according to background information in the article.
Even as life expectancy was increasing in the United States, the incidence of diabetes was also on the rise. In 2000, the lifetime risk of diabetes was estimated at 33 percent for men and 39 percent for women, according to the study.
Life expectancy at age 18 for both men and women increased between the 1980s and 2000s, and the overall estimated diabetes-free life went down by about 1.5 years, according to the study.
However, the number of 18-year-olds who would develop diabetes over their lifetimes went up by almost 50 percent for women and nearly doubled for men, the study reports. Moreover, the obese fared worst of all. The loss of diabetes-free life was 5.6 years for men and 2.5 years for women.
"There are a lot of health care implications from our study," Cunningham said. "If we're going to be targeting diabetes as a preventable disease, which type 2 diabetes is, we need to focus on obese individuals. And, I think we need to take new approaches to try to lower diabetes risk in this group. The present efforts to curb diabetes have been successful for some segments of the population, but less so for the obese," she said.
Though it's not always easy, lifestyle changes tend to have the biggest impact on diabetes risk, she said. That means careful monitoring of the diet and regular physical activity. "Even for the highest-risk groups, lifestyle changes are effective," said Cunningham.
"From population studies like this, it's hard to predict the impact on an individual, but once people get diabetes, it can have a huge impact on their life expectancy and their quality of life," explained Dr. Vivian Fonseca, president-elect of medicine and science at the American Diabetes Association.
Fonseca echoed Cunningham's advice. "Type 2 diabetes is preventable. Moderate degrees of lifestyle change can decrease the risk of type 2 diabetes by 60 percent over a three-year period. And, some of those benefits extend much longer. Moderate lifestyle changes are walking 30 minutes a day and losing about 5 percent of your body weight," Fonseca said.
Both experts said that lifestyle changes may be more effective in preventing diabetes than medications if they're done consistently.
More information
Learn about preventing type 2 diabetes from the American Diabetes Association.
Source: HealthDay
​