Experimental Drug for Irregular Heart Rhythm Raises Death Risk: Study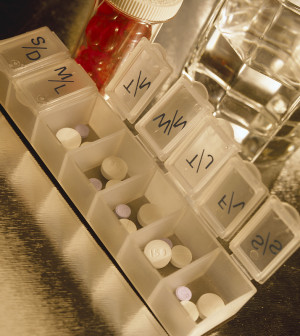 MONDAY, Nov. 14A once-promising drug for a common and dangerous form of irregular heart rhythm actually seems to raise the odds for patient death, a new study finds.
The drug, dronedarone, had seemed effective against the non-chronic, "intermittent" form of atrial fibrillation in prior trials. But in the newer trial — involving patients with ongoing, "permanent" atrial fibrillation — use of dronedarone was tied to a doubling of the patients' death risk. The trial was cancelled early due to concerns over the drug's safety.
Atrial fibrillation is a heart rhythm disorder affecting about 2.7 million Americans that often occurs with age and can raise risks for stroke. In people with intermittent atrial fibrillation, the heart may return to normal rhythm on its own. But it does not do so in people with the more permanent form, who usually receive medications to control their heart rate.
One expert said the new study provides valuable guidance to doctors and patients.
"Rather than being a failure (which it is for the drug), this study is a 'win' for the cardiology community, in that it has tested and shown that this agent should not be used in such a fashion," said Dr. Stephen Green, associate chairman of the department of cardiology at North Shore University Hospital in Manhasset, N.Y.
The study was slated for presentation Monday at the annual meeting of the American Heart Association in Orlando, Fla. It is also being published simultaneously in the New England Journal of Medicine.
Dronedarone is currently used to treat intermittent atrial fibrillation but is not approved for treatment of the permanent form of the condition. This study was designed to investigate if dronedarone would benefit patients 65 and older with permanent atrial fibrillation, but it was halted after enrolling only 30 percent of the intended 10,800 patients.
Compared to those taking a placebo, patients who took dronedarone were 2.2 times more likely to suffer a major vascular event such as stroke, heart attack, systemic blood clot or cardiovascular death, the researchers found.
There were 21 cardiovascular deaths in the dronedarone group and 10 in the placebo (control) group; 13 deaths linked to arrhythmias (heart rhythm disorders) in the dronedarone group and four in the control group; and 23 strokes in the drug group versus 10 in the control group.
The researchers also found that dronedarone increased the risk of hospitalization for heart failure and that the nearly one-third of patients in the dronedarone group who had been taking the heart rhythm drug digitalis had a 36 percent rise in their digitalis blood levels.
That suggests that an "increase in digitalis played a causative role in the increased risk of cardiovascular death," lead author Dr. Stuart J. Connolly, a professor of cardiology at McMaster University in Hamilton, Canada, said in an American Heart Association news release. "But this does not explain the increase in stroke or heart failure," he added.
Still, "the message is that the drug dronedarone should not be used for permanent atrial fibrillation," Connolly said.
Green agreed. "The pertinent points are: Antiarrhythmic agents have traditionally had a difficult risk/benefit ratio, and large-scale studies are useful to choose the correct patient for the correct drug," and, "it is important to trial agents for non-FDA-approved indications, rather than use them indiscriminately," he explained.
More information
The U.S. National Heart, Lung, and Blood Institute has more about atrial fibrillation.
Source: HealthDay
​