Sexual Problems May Arise After Breast Cancer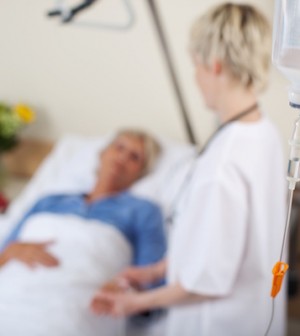 THURSDAY, Sept. 23Sexual problems are common among breast cancer survivors, according to new research.
In a study of about 1,000 women treated for breast cancer, nearly three-quarters of those younger than 70 who had a partner reported sexual difficulties, such as loss of desire or reduced sexual activity, two years after diagnosis.
"We see a large number of women who tell us this is an issue," said study co-author Mary Panjari, a researcher at Monash University Medical School in Prahran, Australia. "The finding that 70 percent had sexual problems after diagnosis and initial treatment … puts numbers to the anecdotal findings," she said. It also echoes previous research.
The study, published online Sept. 23 in the Journal of Sexual Medicine, has broad implications given the increasing numbers of breast cancer survivors, experts say.
Panjari and her colleagues polled 1,684 women in Australia within 12 months of their diagnosis of invasive breast cancer. They asked the women to complete questionnaires annually for five years on their breast cancer treatment, partner status, body image, menopausal symptoms and sexual functioning.
The researchers excluded from the analysis women with active disease, those widowed or without a partner and those 70 and older, reasoning they would have less interest in sex or not be distressed by the lack of it.
That left them with 1,011 women, but data was missing on 17, bringing the number down to 994. Of these, 287 had no sexual problems, but 707 did.
More than 80 percent of the women surveyed reported their sex life had been satisfactory before breast cancer.
Eighty percent who reported sexual problems post-diagnosis also had menopausal symptoms, such as hot flashes and night sweats, which have been linked in other research to decreased sexual function.
Cancer medications and body image also contributed to sexual inhibition, it appears. "Women on aromatase inhibitors were 2.5 times more likely to report sexual function problems if they also had body image issues," Panjari said. "So having body image issues exacerbates sexual problems for women on aromatase inhibitors."
Aromatase inhibitors, a common treatment, are substances that block tumor growth in estrogen-sensitive breast cancers by lowering the amount of estrogen in the body.
Declining sexuality following breast cancer is "an important problem," said Dr. Christine Derzko, an associate professor of obstetrics and gynecology and internal medicine at St. Michael's Hospital at the University of Toronto, Canada, who has written on the topic.
"Drawing attention to this issue is important," she added. "Giving women permission to talk about sexuality is important."
Body image and medications are common hurdles, she noted. The aromatase inhibitors have been linked to vaginal dryness, the Monash researchers reported, and that can lead to painful intercourse, which affects the mechanics of sex, Derzko said.
But women should not discontinue the aromatase inhibitor on their own, Panjari said.
In addition, scars from breast surgery or radiation-induced skin disturbances can remind women of the cancer, Derzko said. Many women worry it will also remind their partner of their illness.
But there's help, these experts added. Derzko said a woman's physician can suggest a vaginal lubricant or moisturizer to help make sexual intercourse pain-free. "We look at various combinations of things we can do," Derzko said.
Bringing the partner in on the discussion is valuable, she added, because men often fear they will hurt their partner if sex is painful.
For libido and body image issues, Derzko said a woman might consider psychological therapy, ideally with someone trained in sexual issues and body image concerns.
And women who want a satisfying sex life shouldn't think of themselves as frivolous, she said. Some women think they should be thankful just to be alive and not complain about sexual functioning, she said.
But she said she tells them: "This is a part of wellness."
More information
To learn more about aromatase inhibitors, visit the National Cancer Institute.
Source: HealthDay
​