Research Reveals How Breast Cancer Rearranges Genome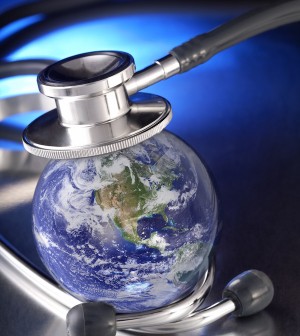 THURSDAY, Dec. 24An analysis of breast cancer genomes has provided insight into how the human genome is rearranged when the disease strikes, researchers report.
"We have looked at the level of the DNA sequence at just how splintered and reorganized the genome is in many breast cancers. We were, frankly, astounded at the number and complexity of rearrangements in some cancers," Mike Stratton of the Wellcome Trust Sanger Institute in Cambridge, U.K., said in a news release from the institute.
"Just as important, the genomes were different from each other, with multiple distinctive patterns of rearrangement observed, supporting the view that breast cancer is not one, but several diseases," Stratton added.
According to the researchers, who looked at 24 breast cancer samples, the study findings will help doctors do a better job of classifying tumors, which will improve the diagnosis and treatment of breast cancer.
"It looks as though some breast cancers have a defect in the machinery that maintains and repairs DNA, and this defect is resulting in large numbers of these abnormalities," said the institute's Dr. Andy Futreal, in the news release. "At the moment, we do not know what the defect is or the abnormal gene underlying it, but we are seeing the result of its malfunction in the hideously untidy state of these genomes. Identifying the underlying mutated cause will be central to working out how some breast cancers develop."
The study findings are published online Dec. 23 in the journal Nature.
More information
The U.S. National Cancer Institute has more about breast cancer.
Source: HealthDay
​