Protein in Breast Tumors May Predict Chemo Response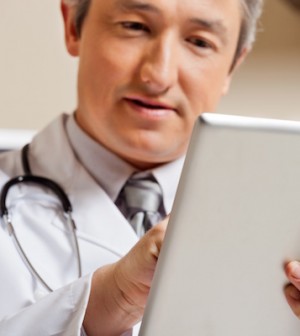 FRIDAY, March 26 (HealthDay News) –The presence of a substance in breast cancer tumors can help doctors predict how people will respond to chemotherapy, German researchers have found.
"The relationship to total response was remarkable," Gunter von Minckwitz, leader of a team that is studying the substance, known as protein poly (ADP-ribose) polymerase, or PARP, said in a news release from the European Breast Cancer Conference.
"Tumors with a high level of PARP expression had a total response in 26 percent of cases, whereas those tumors which did not express PARP had a total response in only 9 percent," said von Minckwitz, who is chairman of the German Breast Group.
"Additionally," he said, "we found that the presence of PARP can provide more accurate prognostic information than the grade of differentiation or degree of abnormality of tumors."
The researchers, who studied 646 women with breast cancer, found that PARP isn't just linked in some tumors but is connected to all breast cancer subtypes.
According to the researchers, PARP plays a variety of roles in cellular processes. Among other things, they said, it helps repair breaks in DNA.
The study findings were to be presented Friday at the European Breast Cancer Conference in Barcelona, Spain.
More information
Breastcancer.org has more on chemotherapy for breast cancer.
Source: HealthDay
​