New Tests for Prostate Cancer Might Bring More Certainty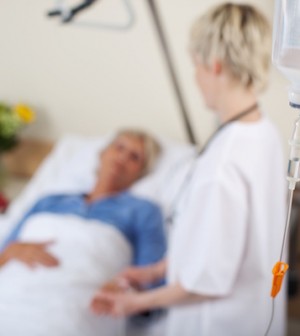 WEDNESDAY, June 2Two new tests promise to cut down on the number of biopsies now taken from men suspected of having prostate cancer, researchers report.
The tests — still in the early stages of development — might also offer better clues about which cancers require immediate treatment and which can be left for so-called "watchful waiting," researchers reported Tuesday at the American Urological Association's annual meeting, in San Francisco.
Both tests check for increased levels of genetic material — one for the DNA of which genes are made, the other for the RNA that carries the messages from those genes. And both tests appear to add certainty to the suspicion of prostate cancer provided by the most widely used test for prostate cancer, the prostate-specific antigen (PSA) blood screen.
PSA testing is often used to screen men for prostate cancer. A high blood level reading of PSA is often followed by a biopsy — tissue sample — to detect cancer cells.
However, "only one of three [such patients] is likely to have a positive biopsy," noted Dr. Rakesh Singal, an associate professor of medicine at the University of Miami Miller School of Medicine, who presented one report at the meeting. "We wanted to come up with a test that tells us which patients are likely to have positive biopsies," to help spare men unnecessary procedures and worry, he said.
The test Singal described looks at blood levels of specific DNA. Prostate cancer can increase those levels, because malignant cells grow abnormally fast and cause the death of other cells, Singal explained.
The study included 252 men referred for prostate biopsies because of abnormal PSA test readings. Singal's team found that high levels of the target DNA were significantly associated with the presence of a cancer.
"What we think will probably happen in the future is that those men who have high PSA levels will [also] have this test," Singal said. "If the DNA levels are high they will have biopsies; if low, they can be observed periodically."
But for that to happen, the results of this study have to be confirmed, he said. "We hopefully will find funding for a study in a larger set of patients," Singal said.
The other test, described by Dr. E. David Crawford, a professor of urology at the University of Colorado, is targeted to elevated levels of PCA3 "messenger RNA" in urine. Again, elevated levels of this genetic material are associated with the presence of a tumor.
In the study, nearly 2,000 men with elevated PSA levels or abnormal results on a digital rectal examination (which measures prostate enlargement) also underwent PCA3 urine tests, followed by biopsies.
The PCA3 readings were significantly higher in those men whose biopsies turned out positive for cancer, the team found.
In addition, "PCA3 level reflects the aggressiveness of cancer," Crawford said, so that the test could be used to single out prostate cancers requiring immediate surgery or radiation treatment.
Further studies are needed to determine whether PCA3 testing could serve that purpose, he said. In the meantime, the immediate effect of the new data is to help develop "a new paradigm" for early detection of cancer, in which PCA3 testing would go along with PSA testing and digital rectal examinations, Crawford said.
That combination could reduce the need for biopsies, which are both expensive, cause discomfort and are associated with a risk of infection, he said.
According to Crawford, about a million biopsies are done in the United States each year because of suspected prostate cancer. "Anything you can do to cut down the large number of biopsies has innumerable advantages," he said.
More information
To learn more about prostate cancer, visit the U.S. National Cancer Institute.
Source: HealthDay
​