New Prostate Cancer Screening Guidelines Unveiled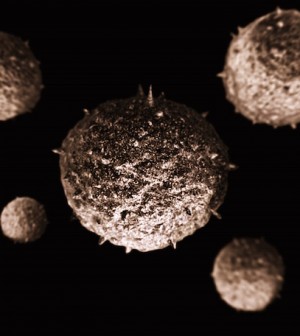 WEDNESDAY, March 3For the first time in almost a decade, the American Cancer Society has revamped its recommendations for prostate cancer screening.
In new guidelines released Wednesday, the society says that men who choose to be tested should get an annual screening if their level of prostate-specific antigen, or PSA, is 2.5 nanograms per milliliter (ng/mL) or higher. But men whose PSA is under that threshold can be safely screened every two years. Men with a PSA level of 4.0 ng/mL or higher should consider getting further evaluation, such as a biopsy. Previous guidelines had suggested that men with a PSA of less than 4.0 ng/mL should be screened annually.
While the cancer society does not recommend screening for anyone — even men at risk — it does offer suggested intervals for screening if men choose to be tested.
"In the U.S., that I'm aware of, this is the first cancer organization that has recommended screening less often than a year in guidelines," said Kathryn Taylor, an associate professor of oncology at Georgetown University Lombardi Comprehensive Cancer Center in Washington, D.C.
The new guidelines also included specific suggestions on how to encourage shared decision-making such as the use of decision aids, many of which already exist, and specific topics to be discussed. As before, men should start talking about the possibility of screening with their health-care provider at the age of 50 if they are at average risk, and earlier if they are at higher risk.
"We continue to emphasize the importance of informed decision-making, and in this guideline we take it a step further," said Dr. Durado Brooks, director of prostate and colorectal cancer for the American Cancer Society. "For a long time, we have given some very general information about what men should be told. Here we have spent a great deal of time, energy and effort identifying the truly important core elements of that informed decision conversation so men really understand what the uncertainties and questions are surrounding this very complicated issue."
The American Cancer Society had been moving towards a stronger focus on making sure men understand the complicated constellation of risks and benefits of both PSA testing and digital rectal exams (DREs) since at least 1997, he added. These guidelines also downplay DREs, saying that when screening is performed, it can be done with PSA tests with or without the DRE.
"I don't think there's ever been as much depth and focus in really educating men and helping them make a good decision for themselves as to whether to have a PSA test," said Dr. Michael Barry, president of the Foundation for Informed Medical Decision-Making and a professor of medicine at Harvard Medical School in Boston.
The PSA blood test has long been a matter of controversy as it can result in a high rate of overdiagnosis, leading to unnecessary treatment and lasting side effects such as impotence and incontinence.
Finalization of the guidelines hinged on the results of two long-awaited, randomized trials, the largest to look at the question of prostate cancer screening. Unfortunately, one trial, out of Europe, found about a 20 percent decreased risk of dying from prostate cancer among men who were screened while a U.S. trial found no difference in mortality.
"Everyone had hoped these studies would settle the question, that there was no benefit to PSA testing and we could skip it or there was a benefit and we could get about doing it," Barry said. "The truth is this is a pretty close call. There's a small chance of lowering the risk of dying from prostate cancer but you can pay for it."
The guidelines also came out firmly against community-based screening.
"They have an emphasis on the informed decision-making and on men's values, really highlighting that this is not a right or wrong decision, that men's values really need to play a central role," Taylor said. "Putting this front and center was really a change."
The new guidelines are published online in advance of print publication in CA: A Cancer Journal for Clinicians.
Dr. Anton J. Bueschen, president of the American Urological Association (AUA), said his group concurs that "informed consent – including a discussion between physician and patient about the risks and benefits of testing – is a key part of one's decision to be tested for prostate cancer. It is equally necessary that patients receive reliable information from culturally appropriate sources.
"However," he added in a news release, "the new ACS statement may not fully characterize the potential benefits of an individualized approach to assessing risk in men considering the risk and benefits of early detection strategies and may cause significant confusion for patients. The AUA feels there is no single PSA standard that applies to all men, nor should there be. Part of informed consent is giving patients as much information about their personal risk as is available. Applying population-based cut points while ignoring other individual risk factors (such as age, ethnicity, family history, previous biopsy characteristics, etc.) may not give a patient the most optimal assessment of his risk, including the risk of high grade disease."
More information
Learn more about prostate cancer at the American Cancer Society.
Source: HealthDay
​