New Drugs, Approaches Offer Hope Against Prostate Cancer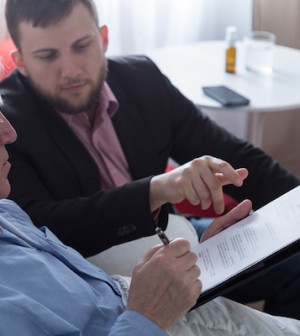 WEDNESDAY, March 3Scientists are making headway in finding ways to treat and detect stubborn forms of prostate cancer.
The new hope comes from three studies being presented this week at the annual Genitourinary Cancers Symposium in San Francisco.
"Genitourinary cancers include cancers of the prostate, kidney, bladder and testicles," Dr. Nicholas J. Vogelzang, chairman and medical director of the developmental therapeutics committee at U.S. Oncology, explained at a Wednesday teleconference announcing the various findings. "The most common of these is prostate cancer, which is diagnosed in 192,000 men and claims 27,000 lives each year."
The first study, led by Dr. Oliver Sartor of Tulane Cancer Center, New Orleans, found that a new investigational drug called cabazitaxel improved overall survival in men whose prostate cancer had progressed despite being treated with hormone therapy and docetaxel-containing chemotherapy.
Men receiving cabazitaxel plus mitoxantrone (a chemotherapy drug) lived 15.1 months compared to 12.7 months for patients who received mitoxantrone plus prednisone. This represents a 30 percent increase in survival, which may not seem long but is seen as significant for men with a poor prognosis.
"Advances in cancer therapy have always been incremental. We have only a few examples of massive improvements with one drug," Vogelzang noted. "Three months is a major clinical advance."
Other studies are looking at whether giving the drug earlier in the course of the cancer would improve survival even more.
"Until today, experimental agents have never been shown to have a survival advantage in this group of patients," said Sartor, who is Piltz Professor for Cancer Research at Tulane. "This potentially represents a new therapy option for these patients who are very difficult to treat. We don't know when this is going to the FDA [U.S. Food and Drug Administration] for approval, but we're working very hard to prepare the submission."
A second group of researchers reported that the PCA3 urine test, which measures levels of prostate cancer gene 3, can predict when a biopsy of the prostate gland will come out positive.
The PCA3 gene is overexpressed in men who have prostate cancer, but not in men with benign disease, raising the possibility that the finding may cut down on the number of unnecessary prostate biopsies.
According to study author Jack Groskopf, director of research and development in cancer diagnostics at Gen-Probe Inc., which makes the test, most prostate biopsies that are currently performed after elevated prostate-specific antigen (PSA) test results actually turn out to be negative for cancer.
"The ability of this test to predict biopsies positively could potentially be very helpful and may also may help us identify those more aggressive cancers, which we still do not have a great way to identify other than [with] repeat biopsies," said Vogelzang.
The final prostate cancer study found that short-term hormone therapy — either before or during radiation therapy — could help men with intermediate-risk, early-stage prostate cancer live longer and live longer without a recurrence.
But the therapy did not seem to help men with low-risk, early-stage tumors.
Since that study was conducted, however, standard radiation doses to treat prostate cancer have become higher and more efficient, raising the question as to whether these results are applicable to modern-day procedures.
In addition, said study co-author Dr. Christopher Jones, a partner of Radiological Associates of Sacramento, Calif., "there are consequences from short-course hormone therapy such as hot flashes and impotence, and we don't know the long-term effect on sexual function. We need to know if there's a real benefit to the individual patient of adding hormones to radiation before adopting this as standard practice."
A final study demonstrated that adding high-tech urine biomarker tests to regular cystoscopy was not cost-effective in detecting recurrences of bladder cancer. Adding the biomarker screen also increased the risk for false-positive results, the researchers found.
Cystoscopy involves looking at the inside of the bladder with a camera.
"This data suggest that cystoscopy alone remains the most cost-effective strategy," said study author Dr. Jose Karam, a urologic oncology fellow at The University of Texas M.D. Anderson Cancer Center in Houston. "The addition of urine tests adds to the cost without detection of invasive disease, suggesting that we should be using these markers carefully and judiciously when surveying patients with bladder cancer."
Both Vogelzang and Sartor disclosed numerous ties with pharmaceutical companies.
The Genitourinary Cancers Symposium is sponsored jointly by the American Society for Clinical Oncology, the American Society for Radiation Oncology and the Society of Urologic Oncology.
More information
There's more on genitourinary cancers at the U.S. National Cancer Institute.
Source: HealthDay
​