Most Men With Low-Risk Prostate Cancer Treated Aggressively, Study Shows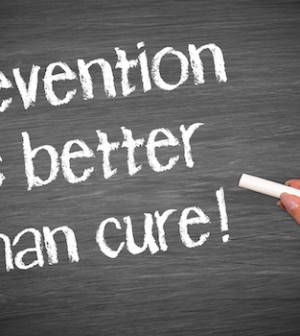 MONDAY, July 26Too many men with low-risk prostate cancers, those whose level of prostate-specific antigen (PSA) is normal or below normal, still receive aggressive treatment, a new study shows.
Recent evidence has shown that among older men with low-risk prostate cancer, it's not the cancer they die from, but another condition. For these men, watchful waiting is probably better than surgery or radiation therapy, the researchers noted.
"The difficulty we have right now is that we need further efforts in research to understand who is who, and individualize treatment in a better way," said lead researcher Dr. Robert S. DiPaola, director of the Cancer Institute of New Jersey and associate dean for oncology programs and professor of medicine at UMDNJ-Robert Wood Johnson Medical School in New Brunswick, N.J.
Understanding more about prostate cancer will enable doctors to make better use of the therapies available, he added. "Obviously, there is a large population, if we knew who they were, [that] would not need that therapy," he said.
But on an individual basis, the decision whether to have aggressive treatment or not is complex, DiPaola noted. Because the decision may be different "depending on age, aggressiveness of the tumor, the PSA level, this is a call to action that patients need a very informed discussion. They need all those things considered, and the approach needs to be individualized," he said.
The report is published in the July 26 issue of the Archives of Internal Medicine.
For the study, DiPaola's team collected data on 123,934 men with prostate cancer who were listed in the Surveillance, Epidemiology and End Results (SEER) system. Among these men, 14 percent had PSA levels at or below 4 nanograms per milliliter, which is normal or below normal. These patients were likely to have low-risk cancer, the researchers say.
Although the men had low-risk cancer, more than 75 percent of them underwent surgery to remove their prostate or had radiation therapy, DiPaola's group found.
More than 90 percent of prostate cancers are found before the disease has spread to other parts of the body, and these men have a five-year survival rate of almost 100 percent, the researchers say. Since 1975, the overall survival rate of men with prostate cancer has increased, from 69 percent to almost 99 percent in 2003, they added.
Dr. Anthony D'Amico, chief of radiation oncology at Brigham and Women's Hospital in Boston, said one problem with this study is that whether patients had another serious medical condition, other than prostate cancer, such as heart disease or diabetes, is not mentioned.
"What needs to be done is to look at people's risk profile, not just based on the PSA and the kind of cancer that was diagnosed, but also based on their overall health," he said. "There is no data, to date, to understand the natural history of untreated low-risk, low-PSA, prostate cancer in healthy men in their 60s and 70s whose life expectancy is exceeding 10 to 15 years," he said.
D'Amico thinks that healthy younger men with low-risk prostate cancer may opt for aggressive treatment, while older men in poorer health could benefit from active monitoring. "For men 60 and 65 in good health, I think, treatment is warranted," he said.
For another expert, the problem of overtreatment starts with over-screening.
Dr. Otis Brawley, chief medical officer of the American Cancer Society, said that "there are huge problems with PSA screening." Most men who have prostate cancer will die from some other condition and do not have to have their prostate cancer treated, he added.
"PSA screening is so good it diagnoses far too many men with prostate cancer, and is so bad it misses a lot of prostate cancer," he added.
There are a lot of uncertainties regarding prostate cancer and prostate cancer screening as to whether it save lives, as to whether it diagnoses the cancers that need to be treated or the cancers that simply need to be watched, Brawley said. "Unfortunately, over the last 20 years men have not been told that truth."
Brawley thinks men who are worried about prostate cancer should be screened. "It's okay to get prostate cancer screening, but realize that prostate cancer screening is not nearly as good, as clearly beneficial, as many people have said," he said.
The overdiagnosis of prostate cancer is leading to overtreatment, Brawley said. "Over the last 20 years, since we started screening, well over 2 million men were needlessly treated for prostate cancer," he said.
"At least 40 percent, or probably more than 60 percent of the men who we diagnose, don't need to be diagnosed," Brawley said.
More information
For more information on prostate cancer, visit the American Cancer Society.
Source: HealthDay
​