Fracture Risk Seen With Hormone Therapy for Prostate Cancer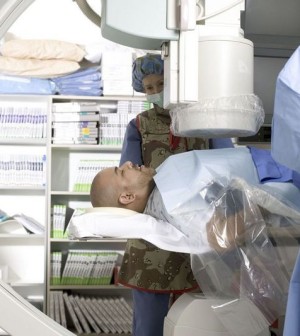 TUESDAY, Nov. 9Long-term use of androgen deprivation therapy to treat prostate cancer may increase older patients' risk of broken bones, according to a new study.
These findings suggest that careful consideration is needed before doctors decide to use this therapy in older men with localized disease, the researchers said.
They analyzed data from more than 46,500 men, aged 66 and older, who survived at least five years after a diagnosis of localized prostate cancer and received long-term androgen deprivation therapy.
Older men with co-existing health problems are usually prescribed androgen deprivation therapy because they are not suitable candidates for radiation therapy or surgery to remove the prostate.
But this study found that men treated with androgen deprivation therapy had a 20 percent increased risk of a first fracture and a 57 percent increased risk of a second fracture after two years of treatment.
Older age, a higher number of co-existing health problems, and a history of fracture and stroke were associated with increased risk of fracture, the researchers said.
"Treating men who have pre-existing conditions with longer duration of androgen deprivation therapy exacerbates their risk of fracture, and becomes more pronounced over time," Grace Lu-Yao, a professor of medicine at the Cancer Institute of New Jersey and UMDNJ-Robert Wood Johnson Medical School, said in an American Association for Cancer Research (AACR) news release.
"Careful evaluation of the patient's risk of fracture, while initiating treatment, is important because fracture has a strong impact on quality of life and mortality," she added.
In addition, treatments involving removal of the testicles to stop testosterone production (which prostate cancer needs in order to grow) and/or long-term gonadotropin-releasing hormone use are also associated with an increased risk of fracture among men with prostate cancer.
The study findings were to be presented at the annual AACR Cancer Prevention Research Conference, Nov. 7 to 10 in Philadelphia.
More information
The American Cancer Society has more about androgen deprivation therapy.
Source: HealthDay
​