Folic Acid Fortification Might Boost Cancer Risk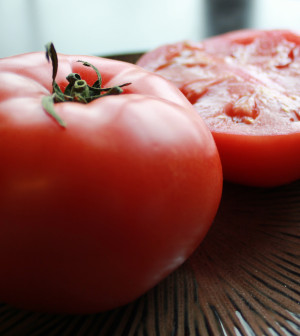 TUESDAY, Nov. 17Although folic acid fortification of foods can prevent many birth defects, it may also increase the risk for developing cancer, Norwegian researchers report.
Since 1998, many countries have mandated folic acid (vitamin B9) fortification of foods to decrease the incidence of neural-tube defects in newborns. By October 2009, the flour produced in these countries, plus the flour that is fortified voluntarily, represented 30 percent of the world's wheat flour produced in large mills. In addition, some 40 percent of those living in the United States also take dietary supplements containing folic acid, the researchers noted.
However, "Folic acid fortification and supplementation may not necessarily be as safe as previously assumed," said lead researcher Dr. Marta Ebbing, from the Department of Heart Disease at Haukeland University Hospital in Bergen. "Public health and food safety authorities should take this into consideration."
In Norway, foods are not supplemented with folic acid, making it the ideal place to investigate whether or not the supplement increases the risk for cancer, Ebbing noted.
"The study shows that treatment with folic acid for approximately three-and-a-half years was associated with a 21 percent increased risk of cancer and an increased risk of death after six-and-a-half years of follow-up in a large population of patients with ischemic heart disease living in Norway, where there is no folic acid fortification of foods," she said.
The report is published in the Nov. 18 issue of the Journal of the American Medical Association.
For the study, Ebbing's team collected data on 6,837 patients with heart disease from two trials. These trials were designed to see if vitamin B could lower homocysteine, a protein associated with an increased risk of heart disease.
In the studies, patients were randomly assigned to receive folic acid plus vitamins B12 and B6, folic acid plus B12, or B6 alone, or a placebo. These trials ran from 1998 to 2005, and were followed through the end of 2007.
The researchers found that patients who received folic acid had a 21 percent increased risk for developing cancer. In addition, of the 341 patients who received folic acid and developed cancer, 136 died — a 38 percent increased risk compared with patients who did not take folic acid and developed cancer.
The most common cancers associated with folic acid were colorectal, lung, prostate and blood cancer, the researchers noted.
In all, 16.1 percent of the patients who were given folic acid plus vitamin B12 died from any cause, compared with 13.8 percent of patients who received neither folic acid nor vitamin B12, the researchers said.
Bettina F. Drake, an assistant professor of surgery at the Alvin J. Siteman Cancer Center of the Washington University School of Medicine in St. Louis and co-author of an accompanying journal editorial, said that "while the results by Ebbing and colleagues provide some short-term data that is important in helping us understand the complexities in the association between folic acid and cancer risk, this report does not nullify the vast potential long-term benefits that folic acid fortification may have on population health."
Drake noted that the dose of folic acid given to patients in the Norwegian studies was significantly higher than what most people in the United States get. "U.S. fortification appears to have left the population well within safe limits," she said.
The true effect of folic acid on cancer may take many years of follow-up to determine, Drake said.
Cancer prevention efforts do not start or end with folic acid, Drake added. "Cessation from cigarette smoking for all who currently smoke and prevention of smoking in our youth and adolescents remains the highest priority for cancer prevention," she noted.
"For those who do not smoke, eating a healthy diet and exercising to avoid weight gain or maintain weight loss will translate to lower risk of cancer, diabetes and other chronic conditions," she said. "These are population-wide changes that take time, and the benefits of such lifestyle changes can take years to realize. Sometimes study results do, too."
More information
For more information on folic acid, visit the U.S. National Library of Medicine.
Source: HealthDay
​