FDA Revokes Approval of Avastin for Breast Cancer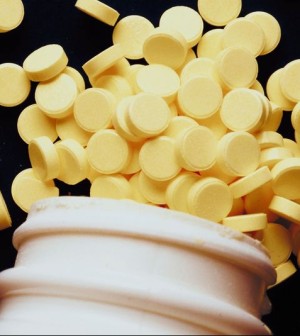 FRIDAY, Nov. 18Saying the risks outweigh the benefits in patients with advanced breast cancer, U.S. Food and Drug Administration Commissioner Dr. Margaret Hamburg said on Friday that the agency has rescinded its approval of the cancer drug Avastin for that use.
Avastin (bevacizumab), however, will remain available for treating some types of colon, lung, kidney and brain cancer.
"Today, I am revoking the FDA's approval of the breast cancer indication for Avastin after concluding that the drug has not been shown to be safe and effective for that use," Hamburg said during a late morning press conference.
"Sometimes, despite the hopes of investigators, patients, industry, and even the FDA, the results of rigorous testing can be disappointing," she said. "This is the case with Avastin when used for the treatment of metastatic breast cancer."
The risks of Avastin include severe high blood pressure, bleeding, heart attack or heart failure and the development of perforations in different parts of the body such as the nose, stomach and intestines.
"These are considerable risks from taking Avastin, and can be justified only if there is good evidence that the use of the drug will benefit the patient," Hamburg said. "In breast cancer, it was clear that there was no proof of benefits that would justify the risks."
The FDA's decision was based on an expert panel's unanimous recommendation in June that the drug was not safe or effective when used for women with metastatic breast cancer. The drug had been approved for use along with the cancer drug Taxol (paclitaxel) for an aggressive type of breast cancer called HER2-negative breast cancer.
In 2008, Avastin was approved to treat metastatic breast cancer under the FDA's accelerated approval program, Hamburg said. Under this program, a drug can gain approval before final data on its safety and effectiveness is complete if its use appears promising in treating serious and life-threatening conditions, she explained.
Avastin's approval was based on results from one study that suggested it extended the lives of certain breast cancer patients.
After its approval for this use, Avastin's maker Genentech completed two clinical trials that found only a small effect on tumor growth without evidence that patients lived any longer or had a better quality of life compared with standard chemotherapy alone.
Some said Friday that they thought the FDA's decision was a sound one.
In a statement, the National Breast Cancer Coalition said it "applauds the FDA and Commissioner Margaret Hamburg for the decision to revoke the approval of Avastin in the first-line treatment of metastatic breast cancer. We understand the devastation of metastatic breast cancer and the fact that we do not know how to prevent or cure it. We remain committed to and focused on finding those answers."
However, Genentech took issue with the agency's decision.
"We are disappointed with the outcome," Dr. Hal Barron, Genentech's chief medical officer, said in a statement. "Despite today's action, we will start a new phase III study of Avastin in combination with paclitaxel in previously untreated metastatic breast cancer, and will evaluate a potential biomarker that may help identify which people might derive a more substantial benefit from Avastin."
Several experts also questioned the FDA's decision.
"I can only say it's not good," said Dr. Stefan Gluck, an oncologist at the University of Miami's Sylvester Comprehensive Cancer Center. "They have been agonizing over it, and they still made the wrong decision."
Avastin gives a subset of patients a large advantage over chemotherapy alone, Gluck said. "In metastatic breast cancer, we give therapy to improve symptoms and improve quality of life and occasionally to improve quantity of life," he explained.
Avastin should only be used in late-stage breast cancer where the disease has spread to other organs such as the lungs, liver, bone or kidneys, Gluck said.
"I would not use Avastin in an older woman with small tumors in the lung without symptoms," Gluck said. "But in a young woman with huge lung masticates, then I need a quick response and a long-lasting response, and this is only available if you add chemotherapy and Avastin together," he said.
In these cases, "the cancer is worse than the side effects," Gluck said. "I need to weigh what is worse at the moment, the side effects, which may not happen, or the cancer. Eventually, the cancer kills the patient, but until the cancer kills the patient I want to give her the best quality of life."
Gluck noted that doctors can still use Avastin for breast cancer patients on an off-label basis. However, the FDA decision may mean that the drug will no longer be covered by insurance companies for use in treating breast cancer.
Dr. Len Lichtenfeld, deputy chief medical officer for the American Cancer Society, said in a statement: "The full impact of this decision is difficult to determine at this time. This decision will obviously lead insurance companies to review their payment policies regarding Avastin in breast cancer. Other experts have made their opinions known that in their experience Avastin has proven beneficial for breast cancer patients. Whether those opinions will provide sufficient reason for insurers and government programs such as Medicare and Medicaid to pay for this treatment remains unknown."
"At the least, we would hope that insurers will continue to cover treatment with Avastin in those women with metastatic breast cancer who are currently on the drug and who are showing a benefit from its use," he added. "Ultimately, as noted by the Commissioner, this was a difficult decision to make, but one that had to be made based on the science."
Elizabeth Thompson, president of Susan G. Komen for the Cure, said in a statement that "as a patient advocacy organization, we want to ensure that women who are successfully using Avastin today continue to have access to the drug, and that their treatment be covered by third-party payers."
"This decision underscores the need for aggressive research to develop treatments that will allow women to live full, high-quality lives even with advanced and metastatic breast cancers. At the same time, we encourage continued research into biomarkers that will help identify which patients will or will not benefit from certain treatments," she said.
More information
For more information on breast cancer, visit the American Cancer Society.
Source: HealthDay
​