FDA Approved Diabetes Drug Despite Hints at Cancer Risk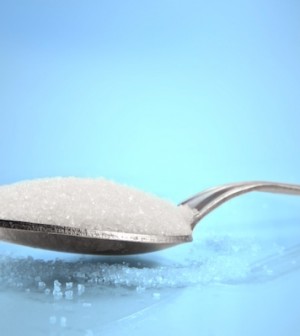 THURSDAY, Feb. 18The U.S. Food and Drug Administration is defending its decision in late January to approve a new diabetes drug, Victoza (liraglutide), even though animal studies suggest it might increase the risk for a rare thyroid cancer.
Victoza, among a class of medicines called glucagon-like peptide-1 (GLP-1) receptor agonists, is meant to be used along with diet and exercise to control blood sugar by helping the pancreas make more insulin after a person eats.
FDA officials explained the agency's stance on the drug in a Perspective article published online Feb. 17 in the New England Journal of Medicine.
"The relevance of the animal findings to people is unknown," said FDA spokeswoman Karen Mahoney. "The type of tumor of concern in people is medullary thyroid cancer, which is a very rare tumor that one cannot expect to be detected in a clinical trial."
No one treated with Victoza in the clinical trial that led to the drug's approval developed this type of cancer, she noted.
However, studies in rats showed that some animals treated with Victoza did develop thyroid tumors. "Some of these tumors were cancerous," Mahoney said. "In rats, cancers were also observed in untreated animals."
The cancer finding in treated rats, compared with the untreated group, was not considered significantly different, statistically, except among male rats that received an eight-fold higher drug exposure than what humans would receive at even the maximum proposed dose, Mahoney said.
"The life span of the animals in these two studies was not affected by liraglutide treatment," she added.
The drug also carries a slight increased risk of pancreatitis, which is not uncommon in diabetics. A common side effect of Victoza is nausea and vomiting, which can also be a sign of pancreatitis, and people taking the drug should be evaluated for that possibility, according to the FDA.
All drugs are associated with risks, Mahoney noted, and Victoza does bring benefit to those taking it.
"Liraglutide is an effective anti-diabetic drug, and controlling blood sugar in patients not adequately treated with other available therapies is very important in preventing the long-term complications of diabetes," she said.
"For this reason, FDA considered the benefits to outweigh the risks, provided that prescribers carefully read the labeling and recommendations for use and select their patient appropriately for liraglutide use," Mahoney said.
She noted that Victoza has one advantage over its only other competitor in this class of drugs, Byetta. Byetta is administered as a twice-daily injection, whereas Victoza is a once-daily injection, Mahoney noted.
The agency is requiring that a medication guide be provided with every prescription filled for Victoza.
"Prescribers will need to carefully review the package insert before considering liraglutide for their patients," Mahoney said. "Patients need to read the medication guide. If after reading the medication guide the patient still has questions or concerns, these need to be raised with the health-care provider."
Two diabetes experts agreed that Victoza could be an important addition to the treatment of type 2 diabetes.
Dr. Joel Zonszein, a professor of clinical medicine in the Clinical Diabetes Center at the Albert Einstein College of Medicine in New York City, said that any controversy over cancer risk is "much to-do about nothing."
Although this rare thyroid cancer can be seen in rodents, "there is no evidence that this is the case in humans," he said. "It is not good to create panic for something that has a very low risk."
According to Zonszein, people should be more concerned about having untreated diabetes than about any unproven risks tied to Victoza.
Dr. Luz Marina Prieto, an assistant professor of clinical medicine at the Diabetes Research Institute of the University of Miami Miller School of Medicine, agreed. She said that Victoza "has given the benefit of better glycemic control and less progression of complications."
Prieto said the drug allows doctors to get a patient's diabetes under control before irreversible complications, such as kidney problems, set in.
The drug "produces weight loss, which is excellent, better glucose control and decreases the possibility of insulin resistance," she said.
Victoza is used in combination with other diabetes medications, such as metformin, and should also be given in conjunction with healthy changes in lifestyle, Prieto said.
More information
The U.S. National Institute of Diabetes and Digestive and Kidney Diseases has more on diabetes.
Source: HealthDay
​