Breast Cancer's Spread Now Better Understood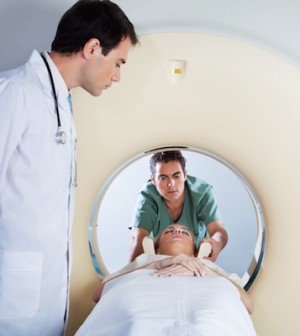 SUNDAY, Dec. 6The spread of breast cancer cells from the main tumor to other parts of the body is controlled by a growth factor known as TGFb, which may prove a promising target for new drugs to prevent metastatic breast cancer, British researchers say.
Previous studies have shown that TGFb (transforming growth factor beta) regulates normal cell growth and movement. In this new study, a team from Cancer Research UK used an advanced microscopy and analysis technique to document the movement of cancer cells from primary breast tumor sites in mice.
The researchers found that single breast cancer cells broke away from the main tumor and entered the blood system when TGFb turned on messenger genes in the cancer cells and then turned them off.
When TGFb was inactive, clumps (but not single cells) of breast cancer cells broke away from the main tumor. Because these clumps can spread only through the lymphatic system, not through the blood, the spread of cancer was local, the study authors explained.
"The results helped us to find the set of genes that are behind the spread of breast cancer — and that the genes need to be first turned on and then off in order for single cancer cells to be able to 'relocate,'" study author Erik Sahai said in a news release from Cancer Research UK.
He noted that in "a medium-sized tumor there could be a billion cells — and only a small proportion might break away and spread. So it is like trying to find — and understand — a moving needle in a very big haystack."
The study, published in the October issue of the journal Nature Cell Biology, is scheduled to be presented Sunday at the annual meeting of the American Society for Cell Biology, held Dec. 5 to 9 in San Diego.
More information
The U.S. National Cancer Institute has more about metastatic cancer.
Source: HealthDay
​