Breast Cancer Gene May Raise Men's Risk, Too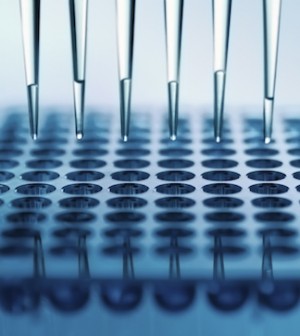 TUESDAY, July 6A faulty gene that greatly increases a woman's risk of breast cancer also boosts a man's risk for the disease, a new study finds.
While most people think of breast cancer as a woman's illness, in rare cases men can develop breast tumors as well.
The new study found that men with a faulty BRCA2 gene, long tied to female breast tumors, have a one in 12 chance of developing breast cancer before they're 80.
British researchers analyzed data from 321 families with a faulty BRCA2 gene. They found that 20 men in the families had developed breast cancer between the ages of 29 and 79.
Of the 905 first-degree male relatives (parent or sibling) of known BRCA2 carriers, 16 men (2 percent) had developed the disease. Eight other cases of breast cancer occurred in second-degree male relatives, two of whom were also BRCA carriers.
Based on this data, the researchers calculated that men with a faulty BRCA2 have a 7.1 percent (one in 15) chance of developing breast cancer by age 70, and a 8.4 percent (one in 12) chance of developing the disease by age 80. The overall lifetime risk is between 6 percent and 9 percent.
"These risks are sufficient to increase awareness of breast cancer among men in BRCA2 families and to stress the importance of early presentation with breast symptoms," researchers led by Gareth Evans, of St. Mary's Hospital, Manchester, concluded.
The study appears online July 6 in the Journal of Medical Genetics.
More information
The American Cancer Society has more about male breast cancer.
Source: HealthDay
​