Bladder Cancer Patients Not Getting Recommended Care: Study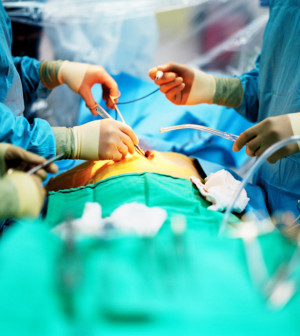 TUESDAY, July 12Most patients with a certain type of bladder cancer don't get the recommended treatments, which greatly increases their risk of experiencing a recurrence of their disease, researchers say.
New research published online July 11 in Cancer showed that just one of 4,545 people with high-grade, noninvasive bladder cancer was treated according to the comprehensive care guidelines set by the American Urological Association and the National Comprehensive Cancer Network.
All of the patients had primary bladder cancer that had not yet invaded their bladder muscle. These people have up to a 70 percent chance of their cancer returning after treatment, and as much as a 50 percent chance of the cancer becoming more aggressive and spreading to surrounding organs after initial treatment. Following the treatment guidelines in full may protect patients from potentially fatal cancer recurrences, the study authors said.
But the treatment guidelines are complex, and it's all or nothing, said study author Dr. Karim Chamie, a postdoctoral fellow in urologic oncology and health services research at the University of California, Los Angeles Jonsson Comprehensive Cancer Center.
"You have to do it all or you might as well not do anything," he said.
When a patient has a high-grade cancer, it means the cells show greater abnormality than cells from a low-grade tumor.
The guidelines for this grade of bladder cancer call for an initial injection of chemotherapy drugs directly into the bladder to kill cancer cells along with an intense follow-up surveillance schedule that involves using a scope to assess the bladder (cystoscopy) and urine testing (cytology) every three months. The chemotherapy shot should be followed by a six-week course of Bacillus Calmette-Guerin (BCG) treatment, which creates an inflammatory response and causes the body to attack the bladder cancer. Imaging of the upper urinary tract with a CT scan, MRI scan or renal ultrasound is also recommended at diagnosis and every two years thereafter.
This would mean each patient receiving eight cystoscopy exams, eight urine tests, two upper urinary tract imaging exams, one chemotherapy shot and six BCG treatments in the two years after their diagnosis, according to the report.
Compliance with the guidelines had little to do with the patients' age, race or economic status. Instead, it was about the doctors who were treating them, the researchers said. The guidelines may not be reaching the urologists at community hospitals, which is where the majority of people are treated, they concluded.
Full adherence to the recommendations "only happened for one person in the study," Chamie said.
When researchers relaxed the standard to one cystoscopy, one cytology and one injection of BCG during the two-year follow-up, 37 percent of patients received the recommended treatment, and just 58 percent of doctors followed these less-strict guidelines on any one patient within two years.
Ongoing research suggests that following these comprehensive care guidelines may confer a survival edge for people with bladder cancer, he said.
Dr. H. Barton Grossman, professor and deputy chairman of the urology department at M.D. Anderson Cancer Center in Houston, said the guidelines described in the new study "are arbitrary and set the bar too high so it looks like everyone failed."
That said, even when the study authors relaxed the standards, they still were not met, Grossman said.
The authors' suggestions for boosting compliance rates included modifying reimbursement rates and conducting additional research to identify barriers to comprehensive treatment.
More information
For more information on bladder cancer and its treatments, visit the American Cancer Society.
Source: HealthDay
​