Intense Cholesterol, Blood Pressure Therapies Don't Help Type 2 Diabetics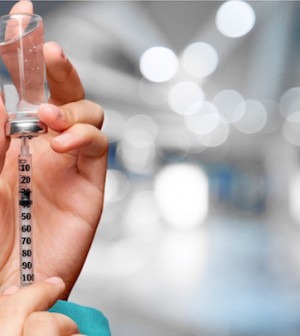 SUNDAY, March 14Two sets of results from a large U.S. government-sponsored trial find that neither aggressive treatment of cholesterol nor of blood pressure lowers the risk of heart events in people with type 2 diabetes.
"These results could be disappointing to a lot of people — that this intensive blood pressure control or intensive lipid control didn't reduce fatal or nonfatal events," said Dr. Stephen Kopecky, a cardiologist and professor of medicine at the Mayo Clinic in Rochester, Minn.
But, Kopecky added, the trial did not look at lifestyle measures which, when added to the mix, might have achieved the sought-after goals of fewer heart attacks, fewer strokes and lower mortality.
The findings come from the huge National Heart, Lung, and Blood Institute-funded Action to Control Cardiovascular Risk in Diabetes (ACCORD) trial which, overall, involved more than 10,000 patients with type 2 diabetes at risk for heart disease.
Both sets of results were to be presented Sunday at the annual meeting of the American College of Cardiology in Atlanta and simultaneously published in the March 18 issue of the New England Journal of Medicine.
People with type 2 diabetes have a considerably higher risk of cardiovascular disease and health experts are constantly searching for new and better ways to lower that risk.
Previous results from ACCORD found, much to everyone's surprise, that intensive lowering of blood sugar levels actually increased the risk of death in this population of people. Other studies have not found that, however, and the jury is still out on what glucose levels are optimal, Kopecky said.
For the ACCORD cholesterol trial, more than 5,500 patients with type 2 diabetes and a high risk for heart disease who were already taking the cholesterol-lowering drug Zocor (simvastatin) were randomly assigned to add fenofibrate or a placebo to their regimen.
Fenofibrate is used to increase HDL ("good") cholesterol levels and reduce triglyceride levels.
The double-strength approach did not result in any notable differences in the rate of fatal cardiovascular events or the incidence of non-fatal first heart attacks, non-fatal stroke or death from cardiovascular problems between the two treatment wings of the trial.
Further analyses did reveal that there might be a benefit for men and also for patients who started out with high triglyceride levels and low HDL cholesterol levels. But, for women, there was a "trend" toward actual harm.
The ACCORD blood pressure trial randomly assigned more than 4,700 men and women with type 2 diabetes to an intensive regimen intended to reduce systolic (the top number) blood pressure to less than 120 mm Hg, or to standard therapy designed to achieve systolic levels of 140 mm Hg.
Although participants in the intensive-therapy arm did achieve lower blood pressure levels, this did not translate into any substantial differences in the incidence of fatal or non-fatal cardiovascular events, such as heart attacks and stroke between the two groups, the team report.
There was a suggestion that taking blood pressure to lower levels might prevent the total number of stroke cases, but 89 people would need to be treated for five years to prevent one stroke, the study authors estimated.
And participants receiving intensive blood pressure therapy did experience more serious adverse events.
"Once systolic blood pressure starts to go above the 115 mark, the risk of heart attack and stroke starts to go up," Kopecky said.
However, previous research has shown dramatic reductions in heart problems in type 2 diabetics who combined medication with lifestyle changes such as exercise and eating five fruits and vegetables a day, he said.
"I'm not saying medicines aren't helpful, just that they need to be done in combination with lifestyle measures," Kopecky said. "It's reminding us how important our lifestyle is. You can't just overcome it with pills."
Another trial being presented at the cardiology meeting — the INVEST trial — had similar findings: that aggressive blood pressure control to bring systolic blood pressure below 130 mmHg in patients who have both type 2 diabetes and heart disease was no better than standard treatment (pulling the blood pressure under 140).
More information
For more on cardiovascular risk and type 2 diabetes, visit the American Heart Association.
Source: HealthDay
​