Hemophilia Drug Used Off-Label Raises Clot Risk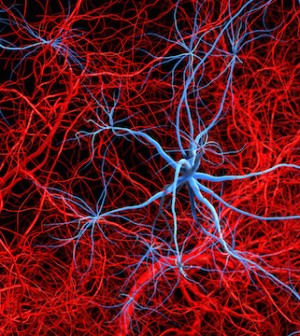 WEDNESDAY, Nov. 3A drug approved to help staunch bleeding in people with hemophilia raises the risk of heart attacks and stroke when it's used to stop life-threatening bleeding due to other conditions, such as trauma or surgery, a new study finds.
Despite the nearly twofold rise in risk of dangerous clots that form inside blood vessels and cause heart attacks and stroke in those without hemophilia, researchers said doctors should use the information to carefully weigh the risks and benefits of using the drug, called recombinant activated factor VII (rFVIIa), for any "off-label" use.
"If you are a physician confronted with a patient with excessive blood loss, and you have done everything you can and this patient is almost dying because of the bleeding, it's quite acceptable to give the drug even if it's associated with a risk of thrombosis [clotting]," said study author Dr. Marcel Levi, a professor of Medicine at University of Amsterdam in the Netherlands. "On the other hand, if you are confronted with a patient who has less than excessive blood loss and you can try other things, then the twofold increased risk of thrombosis is considerable and I would not give the drug."
The study is published in the Nov. 4 issue of the New England Journal of Medicine.
What makes the study so unusual is that the drug maker, Novo Nordisk, gave researchers access to unpublished data on the drug and its potential side effects, said Dr. Louis Aledort, a professor of medicine at Mount Sinai School of Medicine in New York City, who wrote an accompanying editorial.
"The company is to be congratulated," Aledort said. "It would be really great if other companies would do the same so that clinicians thinking about using it a drug in an off-label setting would have all the information at hand so they could make the right decision, which is benefit vs. risk."
rFVIIa was approved about 10 years ago by the U.S. Food and Drug Administration for use in people with hemophilia. Hemophilia is a group of blood disorders in which the blood doesn't clot properly, raising the risk of prolonged bleeding, internal bleeding and bleeding into the joints.
Increasingly, the drug has also been used for so-called "off-label" use, or to treat conditions not expressly licensed by the FDA, Aledort said. While it is legal for physicians to use a drug in this way, a drug's maker cannot promote its use for anything but the condition for which it is approved.
Such "off-label" uses include stopping brain bleeds and staunching bleeding during surgery due to trauma or advanced liver disease, according to the study.
Despite it's effectiveness in stopping bleeding and promoting beneficial clotting, there have been reports of complications, including heart attacks and stroke.
In the study, researchers looked at 35 published and unpublished studies on off-label usage of rFVIIa to treat or prevent bleeding. The studies involved more than 4,100 people who experienced excessive bleeding, some of whom were given rFVIIa and some who weren't. Overall, about 11 percent experienced arterial thrombosis, most often a heart attack, unstable angina (a precursor to a heart attack) or stroke.
About 5.5 percent of those who received rFVIIa experienced arterial thrombosis, compared to 3.2 percent of those who were given a placebo.
About 2.9 percent of those who received rFVIIa had a heart attack compared to about 1.1 percent given a placebo.
The risk of dangerous clots rose with age. Among those 65 and older, 9 percent of those given rFVIIa experienced arterial thrombosis compared to 3.8 percent given a placebo. For those 75 and up, rates rose to 10.8 percent and 4.1 percent, respectively.
There was no increased risk of venous thrombosis, such as clots in the legs or lungs (pulmonary embolism).
"The company helped us. They opened their files. They showed us unpublished data on complications. It's exemplary that the company did this," Levi said. "Usually companies keep that information a little bit obscure."
Aledort said this type of research should serve as a template for the rest of the pharmaceutical industry to follow. "It was very brave of the company," he said.
More information
The American Heart Association has more on heart attacks.
Source: HealthDay
​