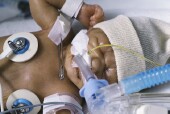 FRIDAY, March 21, 2014 (HealthDay News) — Babies born prematurely are at risk for life-threatening bloodstream infections called sepsis beginning 72 hours after they are born, according to a new study.
The lower intestines — often called guts — of preterm babies contain infectious bacteria, said the research team from Michigan State University, the University of Minnesota and the Washington University School of Medicine in St. Louis.
Sepsis occurs when the immune system is having a significant response to a bacterial infection. The body releases chemicals into the blood to fight off the infection. This can lead to shock, organ failure and inflammation throughout the body. In extreme cases, sepsis can be life-threatening, according to a Washington University news release.
Premature infants can develop sepsis early on due to germs in the mother's amniotic sac or the birth canal. It's also not uncommon for preterm babies to develop sepsis through the use of IVs, catheters and other tubes.
The researchers found that sepsis can also develop after the first few days of life — known as late-onset sepsis.
About 20 percent of premature babies develop late-onset sepsis, according to the news release. Of these babies, 10 percent to 20 percent of those who do not respond to antibiotics die from their infection. Some gut germs may be even more deadly.
"There is a tremendous emphasis in intensive-care units throughout the world on stopping infections related to the insertion of IVs, catheters or other tubes, but that leaves a sizable subset of people who get bloodstream infections from germs that don't necessarily reside on the skin," study senior author Dr. Phillip Tarr, a distinguished professor of pediatrics at the Washington University School of Medicine, said in the news release.
"It's been suspected that these other infections come from the gut," Tarr said. "This research proves that."
In conducting the study, the researchers examined more than 200 premature babies. They collected stool samples as soon as possible after birth to find out what types of bacteria were in the babies' guts.
Babies were treated in a hospital with strict rules on infection-control and sepsis rates below the national average. Despite steps to prevent infection, 11 of the infants developed sepsis by three days of life or later.
Most of the babies that developed late-onset sepsis had three types of possibly harmful gut germs in their bloodstream: E. coli, S. marcescens and group B strep bacteria, according to the study, which was published March 19 in the journal Clinical Infectious Diseases.
The study authors also compared the bacteria found in the blood samples taken from the 11 infected infants to the bacteria found in their stool samples.
In seven infants, the bacteria found in stool samples — taken days or weeks before sepsis developed — were the same as the bacteria found in blood samples taken later. The researchers concluded that bacteria from the gut caused the infections, rather than bacteria from another part of the body.
The researchers also found matching germs in the stool samples of other babies who were in the hospital at the same time. The researchers suggested that bacteria could be spread among infants, but not always cause illness.
"No one can be completely sterile; it is inevitable that bacteria will be encountered by infants in these settings," said Tarr, who is also a professor of molecular microbiology. "We do not know the origin of these bacteria in most cases."
"However, this study tells us that at least in a subset of infants who develop bloodstream infections, the germ that invades their blood flourishes in their gastrointestinal tracts for at least a few days before it causes sepsis," he said.
Doctors could help protect premature infants from dangerous bloodstream infections by developing treatment strategies that target the gut, not just the skin, the researchers said.
The new findings could be applied to other patients who are vulnerable to these types of infections, not just preterm infants, study co-author Dr. Barbara Warner, a professor of pediatrics who treats patients at St. Louis Children's Hospital, said in the news release.
"[Such patients] include people in intensive-care units or with chronic illnesses, or cancer patients who take medicine that may suppress their immune systems," Warner said.
"Late-onset sepsis is not just a disease in preterm infants — it's a cause of serious illness and death among many acutely ill and immunocompromised patients," she said.
More information
The March of Dimes describes common health challenges among premature infants.