Blood Cancer Advances May Improve Survival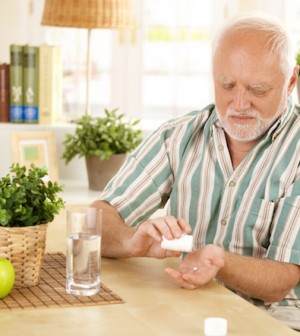 SATURDAY, Dec. 4Advances in the treatment of blood cancers offer new hope for increased survival, according to two studies scheduled to be presented at the American Society of Hematology meeting Saturday in Orlando, Fla.
Results from one study suggest that treating multiple myeloma patients with zoledronic acid can improve survival, while another group of researchers are scheduled to report on their progress in treating a particularly aggressive form of acute lymphoblastic leukemia (ALL).
Zoledronic acid, a type of bisphosphonate, is given to myeloma patients to bolster bone health and reduce the risk for fracture and bone pain that are a common feature of the disease.
Although prior research has suggested that zoledronic acid (brand names include Zometa and Reclast) may have a broader anti-cancer effect, the current study finds that a well-tolerated regimen of the drug can reduce the risk of death among myeloma patients.
The study is published in the Dec. 4 online edition of The Lancet.
"These data add to growing clinical evidence supporting anti-cancer benefits with zoledronic acid in patients with newly diagnosed cancers," the study team, led by Gareth J. Morgan from the Institute of Cancer Research in London, said in a journal news release.
The authors base their conclusions on work with 1,960 multiple myeloma patients, about half of whom were treated with zoledronic acid in combination with either intensive or non-intensive chemotherapy. The other half received clodronic acid (another type of bisphosphonate) and equivalent chemotherapy regimens.
Treatments continued for an average of one year, while further follow-up was conducted for nearly four years.
The zoledronic acid patients experienced 16 percent fewer fatalities (and saw their life expectancy extended by 5.5 months) compared with those on the alternative treatment program, the authors found.
The team also noted that progression-free survival rates came in 12 percent better among those given zoledronic acid. Chemotherapy intensity did not appear to affect fatality and survival outcomes.
However, in an accompanying editorial, Dr. S. Vincent Rajkumar of the Mayo Clinic in Rochester, Minn., said high-potency bisphosphonates can lead to serious complications. He recommends further study to determine the appropriate dose and treatment time.
The second study scheduled for presentation Monday at the hematology meeting reports promising results for a regimen of imatinib (Gleevec) in patients with Philadelphia chromosome-positive (Ph+) ALL, a form of acute lymphoblastic leukemia that progresses rapidly and has a poor prognosis.
The team, led by Adele K. Fielding from University College London, tracked treatment outcomes of about 440 patients. The first group of Ph+ patients was treated solely with chemotherapy and stem cell transplants before imatinib became available in 2003. Post-2003, a second group was given 600 milligrams daily of imatinib following two rounds of chemotherapy. And in 2005, a third group received an earlier round of imatinib in conjunction with a second round of chemotherapy. The imatinib patients continued their drug regimen for two years.
After three years of follow-up, Fielding and colleagues found that each successive approach yielded better results. In the pre-imatinib group, the survival rate was 25 percent. By contrast, survival increased to 34 percent among the imatinib post-chemotherapy group and to 48 percent among the with-chemotherapy group.
The authors concluded that early treatment with imatinib can optimize long-term survival.
The findings of both studies "make sense" to Dr. Marshall Lichtman, a professor of medicine and biochemistry and biophysics at the University of Rochester Medical Center in Rochester, N.Y.
"In regard to myeloma, the last five to 10 years have seen a striking improvement in survival and well-being of patients with advances in therapy. And it's been known for some time that bisphosphonates have an effect not just on bone health but on the myeloma cells themselves," he noted.
"It's conceivable that different forms of bisphosphonates may have the same effect in terms of ameliorating bone disease but one may have a more suppressive effect on the myeloma cells," explained Lichtman, formerly executive vice president of research and medical programs for the Leukemia & Lymphoma Society. "So this study points to zoledronic acid as being more advantageous."
As for imatinib, the researchers "show impressive outcomes, and document striking differences in survival rates, that speak to the importance of using imatinib early," he said.
Because these studies were presented at a medical meeting, the findings should be viewed as preliminary until they are published in a peer-reviewed journal.
More information
For more on multiple myeloma, visit the Leukemia & Lymphoma Society.
Source: HealthDay
​