Weak Muscles May Cause 'Runner's Knee'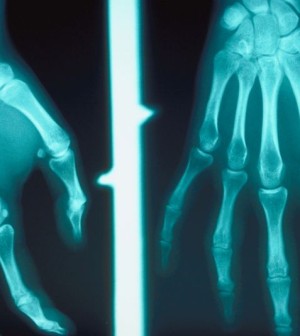 TUESDAY, Dec. 1Weak muscles may be the cause of the painful and debilitating condition known as "runner's knee," new research suggests.
People who develop the condition tend to have "weaker quads and hamstrings," study co-author Darin Padua, said in a news release. "As a result, they don't bend their knees as much when doing tasks, such as running or jumping. That means the contact area between the kneecap and the femur is smaller, so pressure is focused and pinpointed on a smaller area."
That, in turn, leads to runner's knee, also known as patellofemoral pain syndrome, said Padua, an associate professor of exercise and sport science at the University of North Carolina at Chapel Hill. Runner's knee, which affects an estimated one in four people who are physically active, can lead to osteoarthritis.
The research appears to be the first of its kind to study athletes both before and after they develop runner's knee, Padua said.
The researchers studied nearly 1,600 midshipmen from the U.S. Naval Academy. Of those, 40 people — 24 women and 16 men — developed runner's knee over several years.
The study authors noted that those with weaker hamstring and quadriceps muscles, a larger "navicular drop" (flattening of arches in the foot) and less flexible knees were several times more likely to develop the condition.
The findings appear in the November issue of the American Journal of Sports Medicine.
More information
Learn more about runner's knee from the American Academy of Orthopaedic Surgeons.
Source: HealthDay
​