Novel Rheumatoid Arthritis Drug Shows Early Promise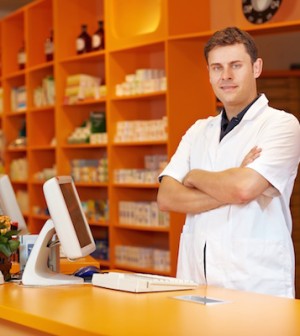 WEDNESDAY, Sept. 22A new targeted medication for rheumatoid arthritis (RA) may benefit patients with this chronic autoimmune disease who aren't adequately helped by standard RA drug therapy, researchers say.
The oral medication, known as fostamatinib or R788, is part of a new class of drugs known as spleen tyrosine kinase (Syk) inhibitors, which work on the cellular level to block specific pathways that are responsible for joint inflammation. The drugs are similar to the breakthrough cancer drug Gleevec, which inhibits the growth of malignant cells.
"Our findings highlights the fact that there are other pathways that can be utilized in order to improve disease activity among people with rheumatoid arthritis," said Dr. Michael E. Weinblatt, a professor of medicine at Harvard Medical School and the lead author of the study, which was published September 23 in the New England Journal of Medicine.
In this phase 2 multi-center clinical trial, patients with RA who took fostamatinib along with methotrexate were twice as likely as those taking methotrexate and a placebo to have a clinically significant improvement in their disease after six months of treatment, the researchers found. What's more, roughly one third of the patients taking methotrexate and fostamatinib showed measurable benefits after just one week of therapy.
"This drug is particularly promising because it's an oral medication rather than an injectable therapy," added Weinblatt, who is co-director of clinical rheumatology at Brigham and Women's Hospital in Boston.
Currently, some RA patients take injectable medications in a class of drugs called biologic response modifiers, which have been available for roughly a decade. Weinblatt said although these medications are effective, they are expensive (around $25,000 a year).
An estimated 1.3 million Americans have RA, which is a chronic disease that causes pain, stiffness, swelling, and limitation in the motion and function of multiple joints. Inflammation can develop in other organs as well. The disease typically affects women twice as often as men.
For their research in the double-blind, placebo-controlled trial, Weinblatt and his colleagues studied 457 patients who were taking methotrexate but still had active RA. Patients were randomly assigned to be given either 100 mg of fostamatinib twice daily, 150 mg of the drug once a day, or placebo, for six months. At the end of the study, 67 percent of the patients taking 100 mg twice a day showed a clinically significant improvement (including at least a 20 percent reduction in the number of both tender and swollen joints) versus 35 percent in the placebo group. And 43 percent of the patients taking the combination of active drugs had at least a 50 percent reduction in tender and swollen joints, versus 10 percent in the placebo group. A third of patients had a clinically significant benefit after just one week of treatment, the researchers said.
The most common side effects were diarrhea, which occurred in roughly 20 percent of those taking the active drug, and an increase in blood pressure, which was seen in about a quarter of the patients taking fostamatinib; a larger percentage of the patients also developed neutropenia, but no infections were associated with it. Weinblatt said the increases in blood pressure was seen primarily in people with a history of hypertension and that all the patients were able to control their blood pressures with antihypertensive medication.
In an editorial accompanying the study, the authors said that fostamatinib and similar drugs currently in development "have considerable promise as new drugs in the treatment of rheumatoid arthritis," but that more studies are needed to prove their long-term safety as well as efficacy.
One issue of concern involves a theoretical increased risk of cancer, according to the editorial co-author Juan Rivera, deputy scientific director at the National Institute of Arthritis and Musculoskeletal and Skin Diseases.
"Since Syk kinase seems to have tumor suppressive ability in breast cancer cells and its expression is inversely correlated with invasive growth and metastasis, there is the concern that suppressing its function in individuals carrying breast cancer susceptibility genes could result in increased susceptibility to the development of cancer," Rivera said. "This is speculative, but it merits close scrutiny in the use of this drug in the treatment of RA in such individuals."
Rheumatologists said that although the findings so far are intriguing, it's too soon to tell what place, if any, Syk inhibitors will have in treating RA.
"This drug is particularly promising because it is taken orally and it works very fast, but until more studies prove that it has long-term safety and efficacy, we really don't know where it's going to fit in our armamentarium of treatments for RA," said Dr. Jon T. Giles, assistant professor of medicine in the division of rheumatology at the Johns Hopkins School of Medicine in Baltimore.
The study was funded by the drug's manufacturer, Rigel Pharmaceuticals. Earlier this year, Rigel and AstraZeneca entered into a licensing agreement under which AstraZeneca will develop and market the drug. The company said it expects to begin a phase 3 clinical trial before the end of this year.
More information
For more on RA, visit the National Institute of Arthritis and Musculoskeletal and Skin Diseases.
Source: HealthDay
​