Common Swimming Injuries Often Avoidable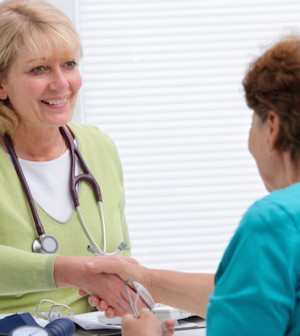 SATURDAY, July 23Swimming may be easy on the joints, but it can be tough on the shoulders.
The most common injury among those who practice the sport is called swimmer's shoulder, which affects up to 70 percent of competitive swimmers, said Dr. Scott A. Rodeo, co-chief of the Sports Medicine and Shoulder Service at Hospital for Special Surgery in New York City, who recently spoke at a hospital conference on endurance athletes.
Typically, swimmer's shoulder is caused by an overuse injury, said Rodeo, who is also chairman of the USA Swimming Sports Medicine Committee. "If you think about a competitive swimmer's number of stroke revolutions per day, per week, per month, per year, it's phenomenal. We're talking about half a million stroke revolutions per year."
Shoulder pain from swimming is most often triggered by tired muscles, deterioration of the rotator cuff tendon (tendonosis), pressure on the rotator cuff as the arm is raised, or looseness in the shoulder muscles and ligaments.
"Changes in the way the muscles work due to overload or fatigue can alter shoulder mechanics and cause problems," said Rodeo in a hospital news release.
When the shoulder isn't working properly, pain may result. To minimize the risk of shoulder injury from swimming, experts recommend the following:
Avoid swimming when very tired, sick, cold or overheated.
Warm up.
Focus on proper swimming techniques.
Supplement swimming with weight training and a general exercise routine to build muscle strength, endurance, balance and flexibility.
Swimmers who develop shoulder pain should address the problem early on to prevent more serious harm, noted Rodeo. Take a break from swimming so the shoulder can rest and avoid strokes and exercises that exacerbate the pain, he advised.
Also, use ice and anti-inflammatory medication as needed, and as pain improves, return to the pool or ocean gradually, he said.
If shoulder pain persists despite rest, consult a doctor, Rodeo said. He also advised those with swimmer's shoulder to seek the help of an experienced physical therapist.
More information
The U.S. National Institutes of Health provides more information on swimmer's shoulder.
Source: HealthDay
​