Bone-Strengthening Drug Guards Against Spread of Breast Cancer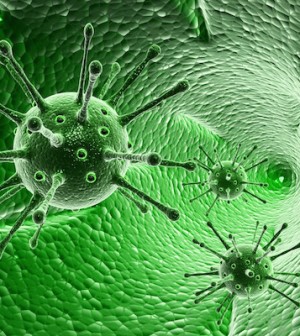 WEDNESDAY, March 31The bone-strengthening drug zoledronic acid (Zometa) reduces the spread of breast cancer by preventing chemotherapy-related bone loss, a new study suggests.
Tumor cells released from the primary breast cancer site often travel to the bone marrow and spread from there to other areas of the body. Chemotherapy speeds up bone turnover, which releases bone-derived growth factors that can promote tumor growth in breast cancer patients.
It's been suggested that zoledronic acid — which reduces bone loss by slowing the activity of cells that destroy bone — can make bone marrow a less inviting place for cancer cells.
The new phase 2 trial included 120 women undergoing chemotherapy for locally advanced breast cancer. Some of the patients received 4 milligrams of zoledronic acid every three weeks for one year starting with their first dose of chemotherapy, while others received no zoledronic acid.
Bone marrow samples were taken at the start of the study and again after three months and one year of treatment. At the start of the study, 45.7 percent of patients had detectable tumor cells in their bone marrow. After three months of treatment, women who received zoledronic acid and chemotherapy had fewer detectable tumor cells than those who received chemotherapy alone, according to Rebecca Aft, of the Washington University School of Medicine in St. Louis, and colleagues.
Among women who had no tumor cells in their bone marrow at the start of the study, 87 percent of those in the zoledronic acid group were free of tumor cells at three months, compared with 60 percent of those who received chemotherapy alone. One year after treatment, the rates were 40 percent and 33 percent, respectively, the study authors noted.
The researchers also found that zoledronic acid prevented chemotherapy-related bone loss. Among patients who had low bone mineral density at the start of the study, 44 percent of those who took zoledronic acid had normal bone density after one year and significant decreases in bone-turnover markers at three months and one year.
The study, which appears online March 31 in The Lancet Oncology, was funded by Novartis Pharmaceuticals and Pfizer Inc.
More information
The U.S. National Cancer Institute has more about breast cancer treatments.
Source: HealthDay
Are You Living with Psoriasis?
A growing knowledge of the skin disease called psoriasis is leading to greater treatment choices, including personalized therapies, the U.S. Food and Drug Administration reports.
Psoriasis is an immune system disorder that causes overproduction of skin cells, resulting in scaling, pain, swelling, redness and heat. The condition affects about 7.5 million Americans.
"As we better understand the disease, researchers know more about what specific factors to target in order to develop effective treatments," FDA dermatologist Dr. Melinda McCord said in an agency news release.
There is no cure for psoriasis, so the main goals of treatments are to stop skin cell overproduction and reduce inflammation. Current therapies include medicines applied to the skin (topical), light treatment (phototherapy), or drugs taken by mouth or given by injection.
Doctors used to take a step-by-step approach, starting patients with mild to moderate psoriasis on topical therapy. If that was ineffective, doctors moved on to phototherapy or drug treatment.
​