1 in 4 With Psoriasis May Have Undiagnosed Arthritis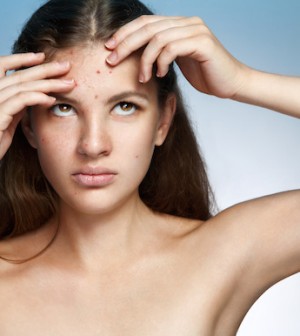 THURSDAY, Oct. 13Nearly one in four Americans with the chronic skin condition known as psoriasis may also have undiagnosed psoriatic arthritis, according to a new study.
This is in addition to the 2 million people in the United States who have been diagnosed with the disease, a type of inflammatory arthritis that affects the joints and tendons and can lead to joint destruction and disability.
For the study, the National Psoriasis Foundation conducted phone and online interviews of 477 people with psoriasis and psoriatic arthritis. The investigators found that 22 percent of the participants who had been diagnosed with psoriasis-only had significant symptoms of psoriatic arthritis: joint pain, pain that shifts from one joint to the other, joints that felt hot to the touch and very swollen fingers and toes.
Psoriasis is the most common autoimmune disease in the United States, affecting as many as 7.5 million people.
The study also found that diagnosis of psoriatic arthritis is delayed in many people. Among the participants with known psoriatic arthritis, 44 percent said it took a year or longer for them to be diagnosed and nearly 30 percent said it took two years or longer for them to be diagnosed.
"It's vital to diagnose and treat psoriatic arthritis early in order to prevent or slow joint damage," Dr. Mark Lebwohl, chair of the National Psoriasis Foundation Medical Board, said in a foundation news release.
The findings prompted the medical board to issue a set of recommendations for psoriasis patients and doctors.
According to the National Psoriasis Foundation Medical Board, people with psoriasis and/or a family history of the disease should monitor themselves and contact their doctor if they experience one or more of the following symptoms:
Pain, swelling or stiffness in one or more joints
Joints that are red or warm to the touch
Frequent joint tenderness or stiffness
Sausage-like swelling in one or more of the fingers or toes
Pain in and around the feet and ankles
Changes to the nails, such as pitting or separation from the nail bed
Pain in the lower back, above the tailbone.
"Up to 30 percent of people with psoriasis develop psoriatic arthritis," Dr. Elaine Husni, a rheumatologist and psoriatic arthritis expert with the Cleveland Clinic in Ohio, said in the news release. "These guidelines could help millions of Americans with psoriasis recognize the signs of psoriatic arthritis early, so they can seek medical attention for a diagnosis and begin treatment. If untreated, the joint damage can be disabling."
More information
The Arthritis Foundation has more about psoriatic arthritis.
Source: HealthDay
​