Survey Reveals Alzheimer's Caregivers' Top Concerns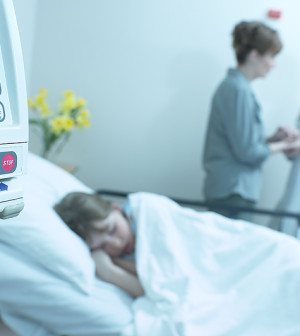 FRIDAY, Oct. 15Family caregivers' greatest concerns about the progression of a loved one's Alzheimer's disease are memory loss (41 percent), personal safety (33 percent) and confusion (27 percent), finds a new survey.
The poll of 524 caregivers also found that 67 percent named at least one cognitive (or thinking skills') change in their loved one as a main concern; 55 percent said caring for a loved one with Alzheimer's has taken a toll on their own health; and 60 percent said they felt overwhelmed.
Male caregivers were more concerned about memory loss than women — 50 percent versus 37 percent.
The survey was conducted by Harris Interactive in September for drug makers Eisai Inc. and Pfizer Inc., in partnership with the Alzheimer's Foundation of America (AFA).
Among the other findings about issues caregivers face:
Women were more likely than men to "worry all the time" (13 percent versus 3 percent) and less likely than men to feel that they have enough support to take care of themselves and their own needs (60 percent versus 76 percent).
Women were more likely than men to find it challenging to maintain relationships with family or friends — 47 percent versus 31 percent.
People looking after loved ones with severe Alzheimer's disease were more likely (84 percent) to say that caregiving frequently prevents them from doing activities they enjoy, compared to caregivers of loved ones with moderate (68 percent) or mild (67 percent) Alzheimer's disease.
Men were more likely than women to be satisfied with communication with their loved one's health care professional (84 percent versus 70 percent) and more likely to regularly discuss options for support or information (26 percent versus 14 percent).
Dissatisfaction with a loved one's treatment was expressed by 53 percent of caregivers who had little or no involvement in discussions with health care providers, compared with 31 percent of caregivers who were involved.
"These survey results reveal that changes in cognition as the disease progresses were an important concern among caregivers. We encourage caregivers and health care professionals to discuss these changes and any others during regular visits," Eric J. Hall, president and CEO of the AFA, said in a Harris Interactive news release.
More information
The U.S. National Institute on Aging has more about Alzheimer's disease.
Source: HealthDay
​