Surgery for Treatable Dementia Might Also Help in Alzheimer's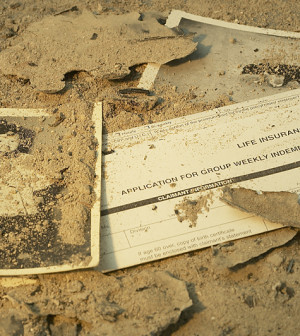 TUESDAY, May 4Some people with Alzheimer's disease may be helped by a brain shunt normally used to treat another, less common neurological condition, new research suggests.
The other condition, normal pressure hydrocephalus (NPH), occurs when excess cerebrospinal fluid builds up in the ventricles, or cavities, deep within the brain. The reasons for the build-up of fluid are unknown, but it tends to occur in older people, said study author Dr. Sebastian Koga, a senior resident and surgeon in the department of neurosurgery at University of Virginia Health Science Center.
When diagnosing NPH, doctors look for three specific symptoms: difficulty walking (gait disturbances), urinary incontinence and dementia, or memory loss. The condition can often be slowed or relieved through a surgical procedure in which a shunt is implanted in the brain to drain fluid into the abdominal cavity, where it's harmlessly reabsorbed, Koga said.
In the study, Koga and his colleagues took brain biopsies from 50 patients who had been diagnosed with NPH and who had shunt surgery.
About 30 percent had also been diagnosed with other conditions, including Parkinson's-like tremors (13 percent), major depression (16 percent) and Alzheimer's (3 percent).
After the surgery, the researchers followed patients for an average of 26 months. Nearly half (47 percent) had a significant improvement in their symptoms.
But about 21 percent saw no benefit and 30 percent continued to decline rapidly, Koga said.
In analyzing the brain tissue, the researchers found that the patients most likely to not improve or to decline also had high counts of amyloid plaques and neurofibrillary tangles, the hallmarks of Alzheimer's disease.
While one possible conclusion is that these patients also had Alzheimer's, another possibility is that both conditions share underlying similarities, and that shunting could also help some of those with Alzheimer's, Koga said.
"Since 1965, we have been thinking this triage of symptoms — gait abnormality, urinary incontinence and memory problems — as a special disease and we have named it normal pressure hydrocephaly," Koga said. "My hypothesis is that NPH is not a specific disease process, but part of a spectrum of dementia."
The research was to be presented Tuesday at the American Association of Neurological Surgeons meeting in Philadelphia.
Since the 1960s, doctors have considered NPH a separate disease from Alzheimer's, which occurs when beta-amyloid protein builds up and forms amyloid plaques and neurofibrillary tangles. The process is thought to kill neurons and lead to the degenerative symptoms of Alzheimer's.
Instead of focusing on the symptoms of NPH, Koga argues, the two conditions may both be caused by tau-protein abnormalities. That means that some of those 5 million to 6 million people with Alzheimer's may also benefit from shunting, something not typically offered to patients diagnosed with Alzheimer's, he added.
"It's theoretically possible that this same surgery could help forestall the symptoms or improve the symptoms of Alzheimer's," Koga said.
One challenge, however, is determining which Alzheimer's patients might benefit from the shunting. The procedure is not something to take lightly. About 10 percent of people who had the shunt implanted experienced complications, while brain biopsies necessary to measure amyloid plaque and tangles is an invasive procedure.
A better and less invasive solution would be to look for biomarkers that would indicate too much cerebrospinal fluid using a spinal tap, a method Koga and his colleagues are currently investigating.
"When the disease is advanced and patients have this high number of lesions, they will not benefit from being shunted," Koga said. "In the future, we could use biomarkers to predict which patients with dementia will benefit from shunting and which will not."
Dr. Richard Byrne, chairman of neurosurgery at Rush University Medical Center, called the study an "intuitive, intelligent way" of trying to determine how to figure out which patients would be helped by shunt.
Currently, differentiating the two is difficult, Byrne added. Neurologists and neurosurgeons rely on a combination of the patient's symptoms, physical exam, brain scans and draining fluid using a spinal tap to determine if patients show signs of improvement.
"Unfortunately, none of those are perfect tests," Byrne said. "This is a very difficult web to untangle, and they are trying to add some more diagnostic tools. They seem to be making some strides in figuring it out."
More information
The U.S. National Institute on Aging has more on Alzheimer's.
Source: HealthDay
​