'Biomarkers' Could Spot Alzheimer's Disease Early, Studies Suggest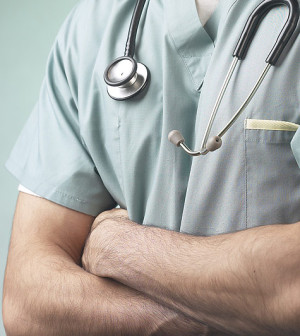 MONDAY, Aug. 9The presence of three proteins in cerebrospinal fluid may spot Alzheimer's disease long before symptoms start and might also signal how fast the disease is progressing.
The findings, appearing in the August issue of the Archives of Neurology, support recently released diagnostic criteria touting the use of such proteins, also known as biomarkers, in aiding diagnosis of this form of dementia.
"This just reinforces the recommendation by [Alzheimer's working groups] saying that biomarkers can actually be incorporated today into clinical practice in order to add a certain piece to the diagnosis if patients are already presenting with something that looks like Alzheimer's," said Maria C. Carrillo, senior director of medical and scientific relations at the Alzheimer's Association.
An accompanying editorial echoed that thought, by "strongly commend[ing] CSF [cerebrospinal fluid] analyses of A1-42, T-tau, and P-tau in circumstances where having a definitive diagnosis of AD is important for counseling patients about such concerns as work, driving, and making other lifestyle changes."
Scientists have been busily trying to find physiological indications that can indicate if a person has Alzheimer's disease or is going to develop it. Right now, effective medications against Alzheimer's do not exist. However, the disease likely begins a decade or so before symptoms appear, experts say, so spotting it early might someday mean earlier (and therefore more effective) prevention and treatment.
These researchers measured levels of three proteins – total tau protein, phosphorylated tau and amyloid protein – in the cerebrospinal (CSF) of 102 people with Alzheimer's, 200 people with mild cognitive impairment and 114 "normal" individuals.
An "Alzheimer's disease signature" was present in 90 percent of the Alzheimer's patients, 72 percent of those with mild cognitive impairment (MCI) and 36 percent of those who had no cognitive impairments.
A signature consisting of low amyloid levels and high phosphorylated tau levels identified patients with MCI who progressed to Alzheimer's with 100 percent accuracy, the team said.
The fact that the signature was also found in individuals with no sign of cognitive impairment underlines the likelihood that Alzheimer's disease has started long before it is symptomatic, stated the authors.
Another research group, this one set to report its finding in the December print issue of the Archives of Neurology verified that blood levels of the beta-amyloid protein predict progression toward Alzheimer's — another step towards identifying valid biomarkers for the disease.
Patients who started out with high levels of the protein that later tapered off, saw their cognitive health decline more rapidly, even if they did not end up with full-blown Alzheimer's.
"High baseline levels of amyloid beta in combination with declining levels over time was sort of a high-risk profile for the development of Alzheimer's disease," explained study first author Stephanie Cosentino, an assistant professor of neuropsychology at Columbia University's Taub Institute in New York City.
The findings support the "amyloid cascade" theory of Alzheimer's, "which points to the accumulate of amyloid in brain as primary trigger for Alzheimer's disease," Cosentino said.
"This paper, which replicated an [earlier] study on these three risk genes indicates that ultimately, genetic biomarkers may play a very strong role in the whole spectrum of biomarkers [involved in Alzheimer's]," stated Carrillo, who was not involved with either study.
But, Cosentino cautioned, "amyloid beta is not ready to be used as a disease biomarker. Not everyone who has high levels of plasma amyloid beta will demonstrate Alzheimer's disease or cognitive decline. Other factors need to be taken into account."
This marker may have more immediately utility in clinical trials, as a way to determine if drugs-in-process are actually effective, she said.
More information
Visit the Alzheimer's Association for more on this disease.
Source: HealthDay
​