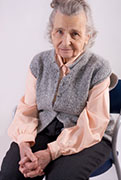 WEDNESDAY, March 5, 2014 (HealthDay News) — The number of lives lost to Alzheimer's disease each year may be far more than thought, and it might rival heart disease and cancer as one of the top killers of Americans, new research suggests.
Combing through data on nearly 2,600 older adults, scientists from Rush University Medical Center in Chicago estimated that more than one-third of all deaths in people aged 75 and older were attributable to Alzheimer's, and the death toll from the incurable brain disease exceeds statistics gleaned from death certificates.
Alzheimer's disease affects an estimated 5 million Americans over age 65, and currently ranks as the sixth leading cause of death in the United States. Although official statistics blame Alzheimer's for about 85,000 deaths each year, the study authors estimated the true toll to be closer to 500,000.
"A lot of people don't recognize that Alzheimer's is a fatal disease. They think people suffering from Alzheimer's eventually succumb to old age," said study author Bryan James, an epidemiologist at Rush Alzheimer's Disease Center. "They don't understand that Alzheimer's eventually hits the part of the brain controlling breathing and heart rate, shutting your brain down. This is another bullet in our gun saying this is a terrible disease."
The study, funded in part by the U.S. National Institutes of Health, was published online March 5 in the journal Neurology.
Alzheimer's is the most common form of dementia, destroying memory, judgment and thinking skills, and eventually leaving victims unable to care for themselves. Symptoms typically begin after age 60, and the risk for developing the disease rises with advancing age, according to the U.S. National Institutes of Health.
James and his colleagues analyzed data from two ongoing aging studies, following nearly 2,600 participants (average age 78) whose brain function was deemed normal at the start of the research.
Over the eight years of the studies, 22 percent of participants eventually developed dementia and 72 percent of those patients died, compared to 34 percent of those who remained dementia-free.
The researchers concluded that Alzheimer's and other dementias are under-reported on death certificates, mainly because these documents list an immediate cause of death, such as pneumonia, that was brought on by Alzheimer's.
"Many times, people with Alzheimer's disease develop pneumonia in the late stages because they have difficulty breathing and swallowing," said Keith Fargo, director of scientific programs and outreach at the Alzheimer's Association. "So they develop pneumonia and die, and the death certificate says pneumonia. But the fact is, they wouldn't have died from pneumonia if they had not had Alzheimer's."
Fargo, who was not involved in the new study, said it's premature to list Alzheimer's among the top three causes of U.S. deaths since similar studies would need to be done for all causes of death to make that determination.
"[But] our official statistics don't do a good enough job of capturing that Alzheimer's is a fatal brain disease," he said.
James and Fargo agreed that the new findings should change public perception of the importance of combating Alzheimer's, which is projected to affect nearly 14 million people in the United States by 2050. Although death rates from heart disease and cancer are dropping because of the advent of more effective therapies, James said, the same isn't true for Alzheimer's. It can't currently be slowed or stopped with any treatment.
"From a public policy standpoint, it's time that we as a nation get much more serious about funding for Alzheimer's disease research," Fargo said. "Scientists tell us they need $2 billion per year to address this, and only a quarter of that is being funded."
James said researchers also need to redefine what is meant by "cause of death," since advancing age can bring many chronic or acute illnesses that all contribute to a person's death.
"Trying to isolate one cause of death doesn't represent the process of death for most older people," he said.
More information
The U.S. National Institute on Aging has more on Alzheimer's disease.
Copyright © 2022 HealthDay. All rights reserved.