Alzheimer's Brain Protein Scanning Moves Forward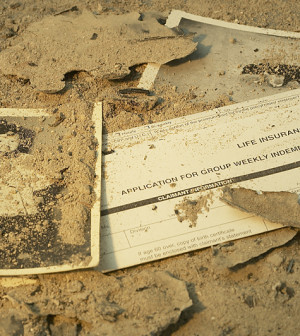 TUESDAY, July 12The use of brain scans to diagnose Alzheimer's disease may have just taken a small step forward.
Longer-lasting radioactive "tracers" used in the brain-scanning process could allow wider use of the imaging technique that, to date, has required costly equipment, according to two new studies funded by the manufacturers of the tracers.
PET scans, or brain scans, create images using the tracers, known as florbetapir and flutemetamol. Using the images, doctors diagnose the existence of beta-amyloid, the protein plaques in the brain linked to Alzheimer's disease.
Before now, PET scans (positron emission tomography) could only be done in a facility that owned a cyclotron, a particle accelerator used to make radioactive material, because the tracer compound needed to do the scan did not last long enough to transport it.
The new imaging compounds last much longer, and once produced, can be transported and used in the scanning technology.
The two new studies are published online July 11 in Archives of Neurology.
In one study, conducted by Dr. Adam S. Fleisher at the Banner Alzheimer's Institute in Phoenix, Ariz., researchers compared brain images of 68 people with probable Alzheimer's disease to 60 participants with mild cognitive, or memory, problems and 82 healthy volunteers. The participants were mostly in their early to mid-70s.
The study found a high correlation between PET scan readings for amyloid and both the disease, and milder symptoms. Healthy adults showed only very low levels of amyloid.
Fleisher said, however, that not enough is known to use the procedure for routine screenings.
"Without anti-amyloid therapy available, there are ethical questions regarding using this type of imaging as a screening tool for patients without any symptoms " because no treatment could be offered, Fleisher said.
In the other study, conducted by Dr. David Wolk at the University of Pennsylvania in Philadelphia, researchers compared brain tissue samples of seven patients undergoing a procedure for hydrocephalus (a degenerative brain disease) with PET scans performed at a later date. People with hydrocephalus often also have Alzheimer's.
The Pennsylvania researchers found a high correlation between amyloid in the brain tissue and PET scans showing the plaque. The average age of patients in that study was 70.
A big issue for research is being able to test drugs on people who actually have Alzheimer's, said Wolk, assistant director of the Penn Memory Center in Philadelphia.
By helping to diagnose Alzheimer's early, PET scans using the new tracers will improve drug testing, treatment and prevention, Wolk added.
Wolk's study was sponsored by GE Healthcare, which manufactures flutemetamol. Fleisher's study was supported by funding from Avid Radiopharmaceuticals, a subsidiary of Eli Lilly and Co., which manufactures florbetapir.
One expert agreed that the longer-lasting tracers could help speed progress in treating the disease.
"There are a couple of different potential uses, both in terms of current clinical care, but more importantly for the future for testing drugs that may be able to intervene in the disease process," said Dr. Marc Gordon, a neurologist at the Feinstein Institute for Medical Research in Manhasset, N.Y.
By improving early diagnosis, the technology will be useful in identifying the "correct population" for drug testing when patients are "pre-symptomatic," before dementia occurs, said Gordon.
Alzheimer's disease affects about 5 million Americans, 90 percent
over the age of 65, according to the National Institutes of Health. But another form of the illness, "early onset" Alzheimer's, can develop in the 30s, 40s or 50s, is genetically based and runs in families, the NIH says. Genetic and lifestyle factors contribute to the late onset of the disease.
The presence of amyloid doesn't mean someone will "necessarily develop Alzheimer's," said Gordon, noting that about 30 percent of elderly people have plaque, but not Alzheimer's.
There are some drugs for treating Alzheimer's, the most common form of dementia, but they don't slow the disease. Their benefits are "modest, they are not cures," said Gordon.
In June, a study presented at a Society of Nuclear Medicine meeting suggested that PET scans for detecting Alzheimer's could be commercially available this year, although experts said such scans could be expensive. In the past, diagnosis has relied on psychological tests and family reports.
More information
To learn more about Alzheimer's, visit the U.S. National Institutes of Health.
Source: HealthDay
​