Fish Oil Pills Might Cut Diabetes Risk, Researchers Say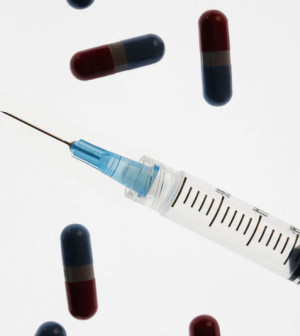 WEDNESDAY, May 22Fish oil supplements could help reduce the risk for type 2 diabetes, new research suggests.
The supplements, also known as omega-3 fatty acids, increase levels of a hormone called adiponectin that's linked to insulin sensitivity, Harvard researchers found. Higher levels of this hormone in the bloodstream have also been linked to a lower risk for heart disease.
"While prior animal studies found fish oil increased circulating adiponectin, whether similar effects apply in humans is not established," the study's lead author, Jason Wu, from the Harvard School of Public Health, said in a news release from the Endocrine Society.
For their study, the researchers conducted a "meta-analysis" of 14 clinical trials. A meta-analysis reviews existing research and attempts to find a consistent pattern. In this case, the studies that were reviewed were all randomized, placebo-controlled trials, which is considered the gold standard in research.
"By reviewing evidence from existing randomized clinical trials, we found that fish oil supplementation caused modest increases in adiponectin in the blood of humans," Wu explained.
Overall, the new study looked at 682 people who took fish oil supplements, and 641 who were given placebos such as sunflower or olive oil.
Among the people treated with fish oil, adiponectin levels increased by 0.37 micrograms per milliliter of blood. This hormone plays a beneficial role in processes that affect metabolism, such as blood sugar regulation and inflammation.
Because the effects of fish oil varied significantly in the studies analyzed, the researchers suggested that omega-3 fatty acids could have a stronger effect in certain groups of people. The investigators concluded that more research is needed to determine which people would benefit most from fish oil supplements.
"Although higher levels of adiponectin in the bloodstream have been linked to lower risk of diabetes and coronary heart disease, whether fish oil influences glucose [blood sugar] metabolism and development of type 2 diabetes remains unclear," Wu said.
"However, results from our study suggest that higher intake of fish oil may moderately increase blood level of adiponectin, and these results support potential benefits of fish oil consumption on glucose control and fat cell metabolism," he added.
But the association does not prove a cause-and-effect relationship between fish oil supplementation and decreased diabetes risk.
Roughly 37 percent of adults and 31 percent of children in the United States take fish oil supplements, according to a 2007 survey by the National Institutes of Health's National Center for Complementary and Alternative Medicine.
The study is scheduled for publication in the Journal of Clinical Endocrinology & Metabolism. It was supported by grants from the National Institutes of Health's National Heart, Lung, and Blood Institute.
More information
The U.S. National Library of Medicine has more about fish oil supplements.
Are You Living with Psoriasis?
A growing knowledge of the skin disease called psoriasis is leading to greater treatment choices, including personalized therapies, the U.S. Food and Drug Administration reports.
Psoriasis is an immune system disorder that causes overproduction of skin cells, resulting in scaling, pain, swelling, redness and heat. The condition affects about 7.5 million Americans.
"As we better understand the disease, researchers know more about what specific factors to target in order to develop effective treatments," FDA dermatologist Dr. Melinda McCord said in an agency news release.
There is no cure for psoriasis, so the main goals of treatments are to stop skin cell overproduction and reduce inflammation. Current therapies include medicines applied to the skin (topical), light treatment (phototherapy), or drugs taken by mouth or given by injection.
Doctors used to take a step-by-step approach, starting patients with mild to moderate psoriasis on topical therapy. If that was ineffective, doctors moved on to phototherapy or drug treatment.
​