Allergens Worsen Sinusitis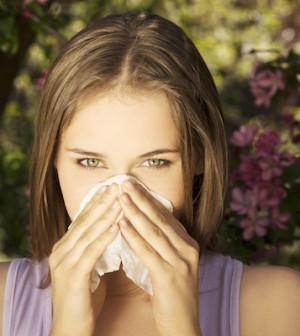 MONDAY, Dec. 21A new Dutch study provides solid proof that allergies can trigger the sinus problems that afflict millions of Americans.
When allergy-causing substances were dripped into the noses of people with chronic sinusitis, almost all of them developed significant sinus responses, such as inflammation, evident on X-ray and ultrasound images, according to a report in the December issue of the Archives of Otolaryngology–Head & Neck Surgery by physicians at the Allergy Research Foundation in Breda, the Netherlands.
"This is something that further supports what we've already known," said Dr. Jordan S. Josephson, a sinus and allergy specialist at Lenox Hill Hospital in New York City. "People should consider allergy testing when they have chronic sinusitis."
An estimated 30 million to 40 million Americans have chronic sinusitis, a swelling and inflammation of the maxillary sinuses located mid-face below the cheeks, said Dr. Michael Benninger, chairman of the Cleveland Clinic Head & Neck Institute. It's been known that a high percentage of them also have allergies, and the new study provides objective evidence of the link, he noted.
It's sometimes difficult to disentangle the two conditions, Josephson said. "Sometimes it's called an allergic sinus infection, sometimes an allergy," he said. "There can be sinus infection with accompanying allergy."
The surprise in the Dutch study was the swiftness of the sinus response to nasal allergens, Benninger said. "Allergy causes inflammation and swelling of the nasal tissue, and sinusitis is inflammation and swelling of tissue," he said. "We never before have had a very good objectification of the immediate response of the tissues."
The study included 71 people with chronic sinusitis and 16 others who had nasal allergies without sinus disease. When allergy-provoking substances were dripped into the noses of those with sinusitis, 67 of them developed 104 nasal responses, with 89 responses showing significant changes in the sinuses. No significant sinus changes were seen in nasal tests of people without sinus disease or when nonallergic substances were dripped into the noses of people with sinus disease.
"What is interesting is that you see this response fairly quickly," Benninger said. "There is not just swelling in the nose, where the allergen is, but in the sinus as well as the nose."
The findings are directly applicable to clinical measures aimed at preventing and treating chronic sinusitis, Josephson and Benninger said.
"For conditions such as chronic sinusitis, allergies, asthma and snoring, you need a comprehensive diagnostic approach to uncover the etiology," Josephson said. "You need a complete history and physical examination, which may include allergy testing."
Preventive measures aimed at allergies may be needed for a large percentage of people with sinusitis, Benninger said. Since response to allergens such as ragweed occurs quickly not only in the nose but also in the sinuses, "you can try treatment before exposure," he said. "Our response could be focusing on initiating treatment to prevent the allergic response."
Such treatment can include over-the-counter antihistamines or nasal sprays, Benninger said.
More information
Learn about sinusitis and its treatment from the U.S. National Library of Medicine.
Source: HealthDay
​