1 in 4 U.S. Teens and Young Adults Binge Drink: CDC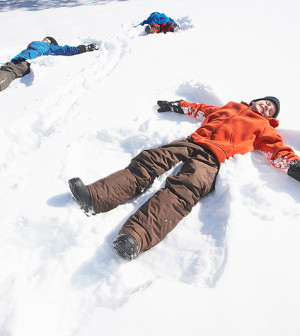 TUESDAY, Oct. 5More than one in four U.S. teens and young adults admit they are binge drinkers, health officials said Tuesday.
In the United States, binge drinking is defined as having four or more drinks for women, and five or more drinks for men, over a couple of hours — numbers that are different because men and women metabolize alcohol differently.
And it's not just teens who are affected. According to the report from the U.S. Centers for Disease Control and Prevention (CDC), more than 33 million adults have reported binge drinking in the past year.
"Binge drinking is a very large health and social problem" and one that has gone largely unnoticed, CDC director Dr. Thomas R. Frieden said during a noon press conference Tuesday. "Most people who binge drink are not alcoholic. It may be because binge drinking has not been recognized as a problem [that] it has not decreased in the past 15 years."
Nonetheless, the toll of binge drinking is enormous.
More than 79,000 deaths each year in the United States result from drinking too much, with about half of these attributable to binge drinking, according to Dr. Robert Brewer, alcohol program leader at CDC's National Center for Chronic Disease Prevention and Health Promotion.
Binge drinkers also put themselves and others at risk for alcohol-related car accidents, violence, HIV transmission and sexually transmitted diseases, and unplanned pregnancy, according to the CDC.
Moreover, drinking too much can lead to liver disease, certain cancers, heart disease, stroke and other chronic diseases. Pregnant women who binge drink can also harm their developing fetus, resulting in permanent mental retardation and other birth defects, the CDC says.
And among teenagers, damage from regular binge drinking may far outlast a hangover the next morning. An earlier study found that in MRI scans, the brains of teens who drank heavily showed damaged nerve tissue compared to those who did not.
These findings are particularly worrisome in light of the current CDC report, which reveals that high school students tend to binge drink whenever they consume alcohol.
"Ninety percent of the alcohol consumed by high school students is consumed in the course of binge drinking, and more than half of the alcohol consumed by adults is consumed in the course of binge drinking," Frieden said.
Among drinkers, one-third of adults and two-thirds of high school kids binge drink, Frieden said.
"If excessive alcohol consumption every day is problem drinking, what is the occasional stint of up to five drinks at one sitting? The answer for many might be 'a party,' and that's just what makes binge drinking so dangerous," said Dr. David L. Katz, director of the Prevention Research Center at Yale University School of Medicine.
"While it resides in the realm of social acceptability, it is, in fact, a major cause of alcohol-related death, and the major cause of such deaths among adolescents and young adults. No party is worth the cost of a young life, full of promise," Katz added.
"Avoiding that cost starts with awareness. Adults need to know, and show, that a drink or two is fine — five or six is not. They need to pass on that awareness to their children. The tragic problem with not knowing when to say 'when' . . . is that you may never get another chance," according to Katz.
Men are more than twice as likely to binge drink as women (21 percent compared with 10 percent). In addition, binge drinking is more common among whites (16 percent) than among blacks (10 percent).
While the report indicates that binge drinking is common, it is probably even more widespread than this report found.
"There really is a substantial under-reporting of binge drinking and alcohol consumption," said the CDC's Brewer. "Even though we are reporting high rates of binge drinking among adults and youth, there is good reason to believe it is significantly under-reported," he said.
Interestingly, binge drinking becomes more common as incomes rise. In fact, adults with incomes of $75,000 or more were more likely to be binge drinkers. About one in five reported binge drinking, Brewer said.
A possible reason that binge drinking increases with income is because it is not recognized as a risky health behavior, Frieden said. "Another possibility is simply with more money, people are able to afford more alcohol and do so," he said.
For the report, the CDC used the Behavioral Risk Factor Surveillance System and the National Youth Risk Behavior Survey to collect data on self reports of binge drinking during the past month for 412,000 adults aged 18 and older and over 16,000 high school students.
Binge drinking also varies from state to state, ranging from 6.8 percent of adults in Tennessee to 23.9 percent in Wisconsin. Binge drinking is most common in the Midwest, North Central Plains, lower New England, Delaware, Alaska, Nevada, and the District of Columbia, according to the report.
More information
For more information on binge drinking, visit the U.S. Centers for Disease Control and Prevention.
Source: HealthDay
​